Posted by Ryan Sapena on 30th Mar 2023
As soon as the birds start singing and the flowers start blooming, adventure enthusiasts start dreaming of snow-free trailheads and wide-open country. Whether you are hiking the Appalachian Trail, packrafting the Smith River, or hitting the high desert of the western United States, springtime delivers some of the best sights, smells, and adventures. However, springtime weather can be inconsistent, ranging from snowfall to hurricane-grade winds, which makes tent selection crucial. Below are some tent recommendations for our favorite springtime adventures..
Backpacking-
Many three-season shelters are designed for backpackers, but the concept of a three-season shelter can be vague. In the early springtime, some northern territories may still expect snow, so a four-season shelter like the Cimarron with an angular design will be your best option if you're expecting heavy snow. If snow isn't a concern, you can choose from some of the lighter shelters available.
For most spring backpacking trips, you will want something that is going to keep you out of rain, is breathable, and easy to set up for fast-moving mountain storms. You might also want a shelter with bug protection since many bugs start appearing three to four weeks after ice off in the continental U.S.
Backpacking Staff Pick:
Our preferred option for springtime backpacking trips is the Guardian with the Guardian Nest. This tent can handle snow loads like a four-season shelter, and the nest keeps mosquitos out of our sleeping space. The zipperless doors can be propped open for added ventilation. This shelter sleeps two people and weighs just shy of two lbs (3.6 lbs with the nest). The trekking pole pitch is easy to set up using just six stakes, making it our go-to for those crazy Rocky Mountain thunderstorms.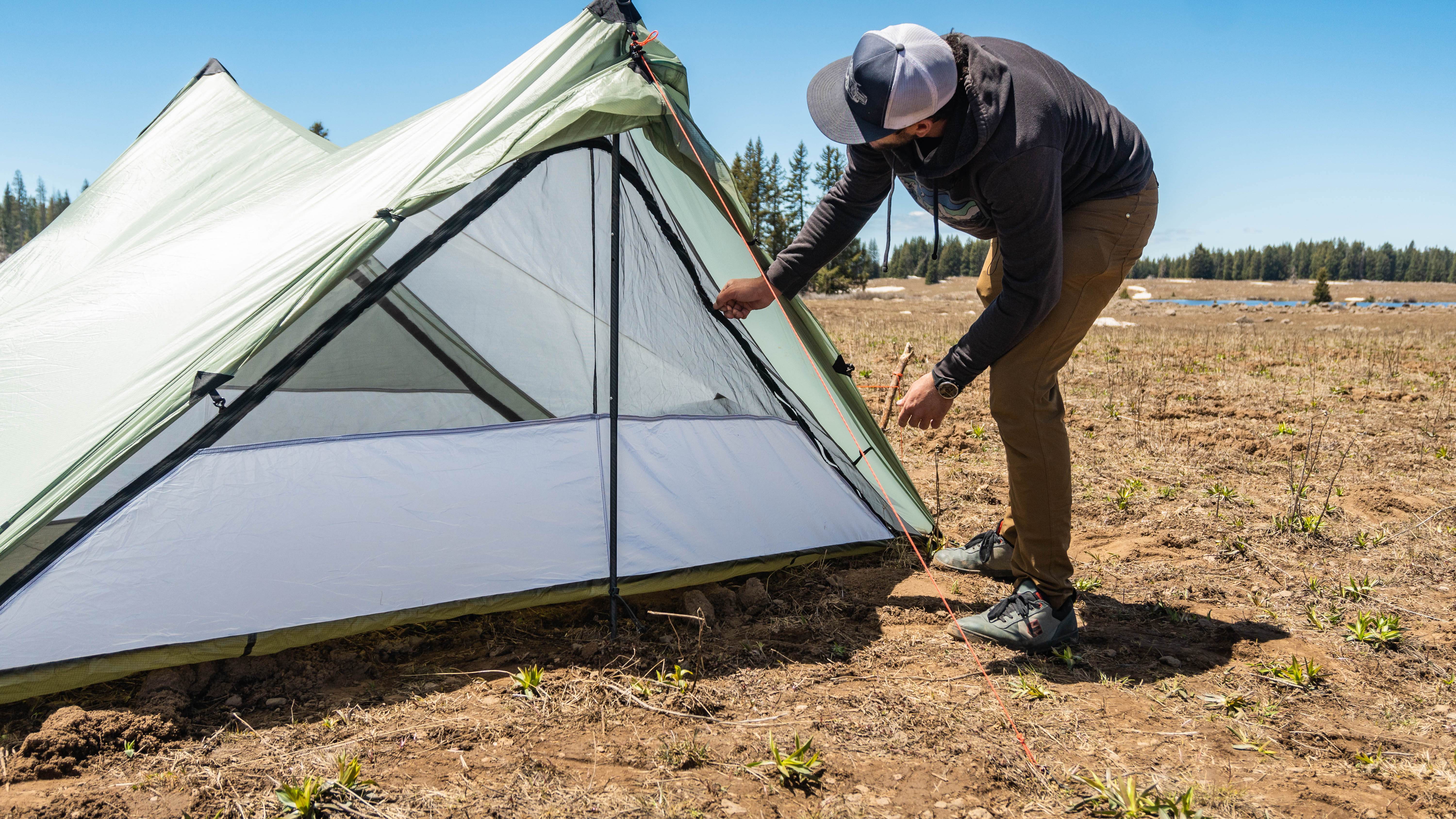 Overlanding and Car Camping-
For OHV enthusiasts, comfort, weather resistance, and ventilation are the primary concerns. A tent that they can trust in high winds but also feel comfortable staying in for multiple hours as they wait out a springtime storm is a must. Many OHV adventurers appreciate being able to stand up in their tent and/or have the space available to use cots. Since pack size is not as big of a concern for car campers, we recommend larger tipis as their interior space and usability is unmatched.
OHV Staff Pick:
The Seek Outside 8 person tipi with a half nest and a stove is an absolute luxury. The half nest sleeps four people, leaving the other half of the tent available for chairs, coolers, or even your enduro motorcycle. It's 8'6" standing height gives you room to stand up and walk around, and the dual zippered doors allow for easy ventilation. Its conical shape coupled with 12 guy out points keeps it glued to the ground during wind gusts and having just 1 pole makes the 8 person a breeze to set up and take down.
River Trips-
Sometimes early springtime is the only time one can peacefully float some of the most beautiful rivers in the country. Pre-runoff fishing can be stellar, and mosquitos are usually minimal. As packrafting and multi day rafting trips are becoming more popular, especially across the western United States, many river adventurers are needing versatile and durable tents to adventure with them. Although not as weight or pack size concerned as a backpacking trip, packability and durability are growing expectations for river adventurers.
Packrafting Staff Pick
The Redcliff is probably the most versatile riverside shelter that we offer. It's perfect for 3-4 people, and you can put a nest in it for bug protection. Its rectangular shape offers more sleeping space for a smaller footprint. This tent packs down to roughly the size of a basketball, so it can fit in any pack or dry bag. The Redcliff Light has the ability to be pitched up off the ground, which can seriously mitigate condensation when camping in river bottoms.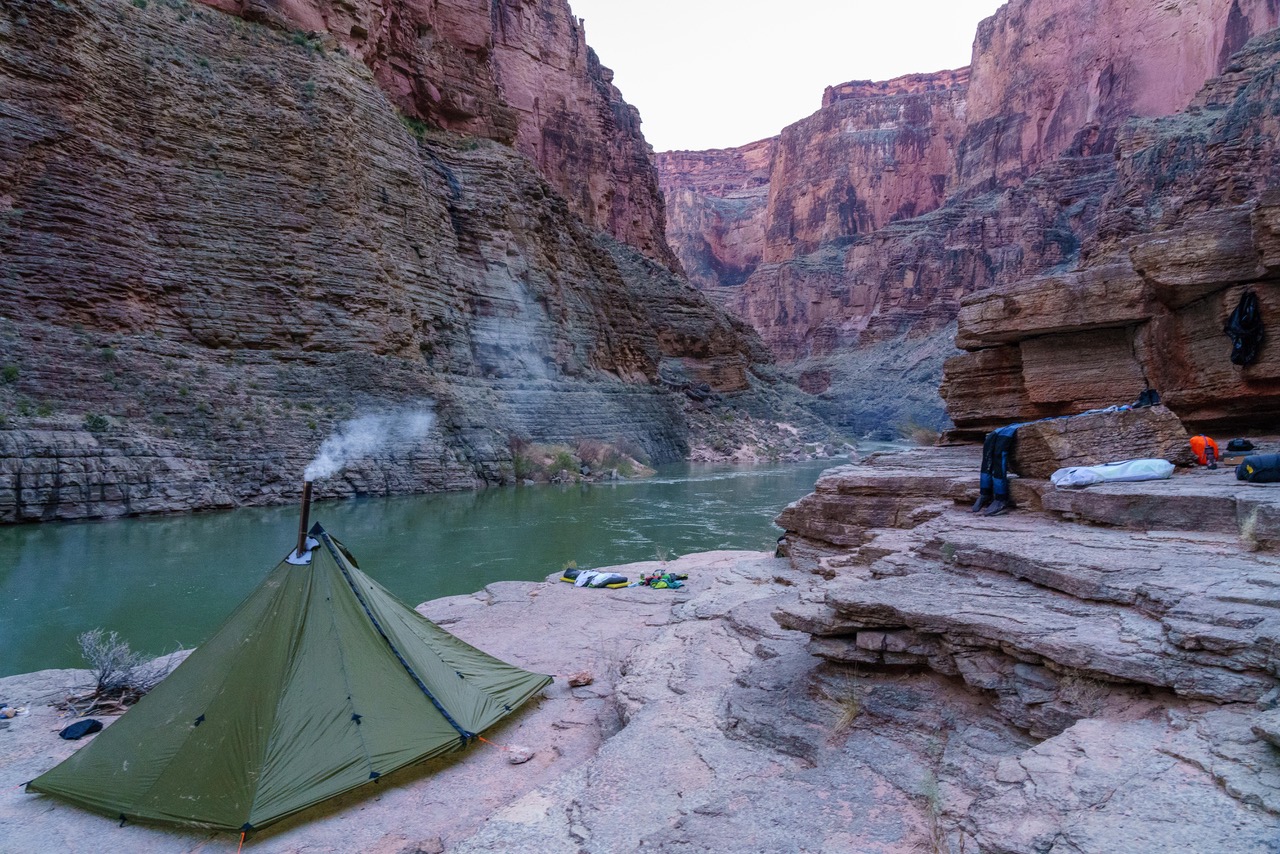 If there was one tent that I could recommend as the jack of all trades, it would be the Cimarron with a half nest and a stove. It's compact and lightweight enough to be suitable for backpacking trips, and the addition of the nest and stove make it an excellent choice for desert camping. Even though it's not the largest shelter out there, it can still comfortably accommodate up to four people if necessary. Ultimately, regardless of the type of camping trip you're embarking on, it's important to do your research and choose the right shelter for your needs to ensure you have a safe and enjoyable experience.
…