The Redclif is a pyramid / tipi hybrid suitable for sleeping 3 - 6 adults. Capable of using a nest on each end or liners, the Redcliff easily adapts to every season. With its rectangular footprint the Redcliff pitches faster than a tipi and its angular panels shed weather better than a plain pyramid. A steep, symmetrical profile and integrated sod skirts further enhance weather resistance. The Redcliff is equally at home as a base camping shelter while hunting, or a ultralight backpacking shelter when shared by a larger group.
Handmade in Grand Junction, CO.
FEATURES:
Pyramid shape
Dual zippered doors with storm flaps
Single peak vent
Stove jack with rain flap
Sod skirt for sealing out drafts
Ultra robust stake loops - big enough for cut or improvised stakes, twist a time or two to tighten up on standard stakes
Interior hang loops for tying clothes line or hanging gear
External guyout loops - use to steepen walls, or pitch the shelter down in tight spots
SPECIFICATIONS:
Weight:

Canopy - 55 oz / 3 lb 7 oz
Complete weight - canopy, stakes, carbon pole - 78 oz / 4 lb 14 oz
Dual screens add 8 oz

Dimensions:

Height 6' 10″
102" by 156" footprint (corner to corner), 130" by 178" center to center
132 sq ft
SIZE GUIDE:
Sleeps 6 without stove
Sleeps 3 with stove
Sleeps 2-3 ultralight short cots with a stove
Need one size smaller? See the 4 Person Tipi
Need one size bigger? See the 8 Person Tipi
Similar size in a tipi shape? See the 6 Person Tipi

COMES WITH:
Shelter canopy
Carbon Pole - 5 sections
12 stakes
3 tubes of seam sealer
SEAM SEALING:
For best results we recommend seam-sealing your tent. You can do it at home or have us do it for you (adds 2-3 weeks)(if we seal the shelter it will be shipped without extra tubes of sealant):
The Redcliff includes 3 tubes of SilNet seam sealer, enough to seal the entire tipi with a tube left over.
Pitch the shelter normally and seal the outside seams.
The easy way to seal is to run a thin bead of sealant along the seam, then press it in with a finger, wiping the excess on a paper towel.
Alternatively, you can use an acid brush from a hardware store to spread the sealant.
TOP ACCESSORIES:
STOVE RECOMMENDATIONS:
INTRO TO HOT TENTS:
The most common questions we get about hot tents are:
How do you not burn the tent down?

The stove jack is a high temp fiberglass material rated to several thousand degrees. The tent material never touches the hot pipe. You can get pinholes from floating embers, but a small dab of silicone seals the pinhole and doesn't hurt the shelter.

How does a floorless shelter work in wet weather?

Really darn well. Don't pitch in a depression obviously, but the ground inside dries out quickly, and it's super convenient to just walk in with muddy shoes (or dogs) and not worry about getting your floor dirty.

What about condensation?
What about carbon monoxide?

It's truly not a concern. We include a peak vent, plus the shelter will draw air through the zipper and under the sod skirt. If you're still concerned, leave a door unzipped 8" or so at the bottom to allow more venting.
Sketchup Animation
Redcliff 360 Look Around
Redcliff v. 4 person tipi: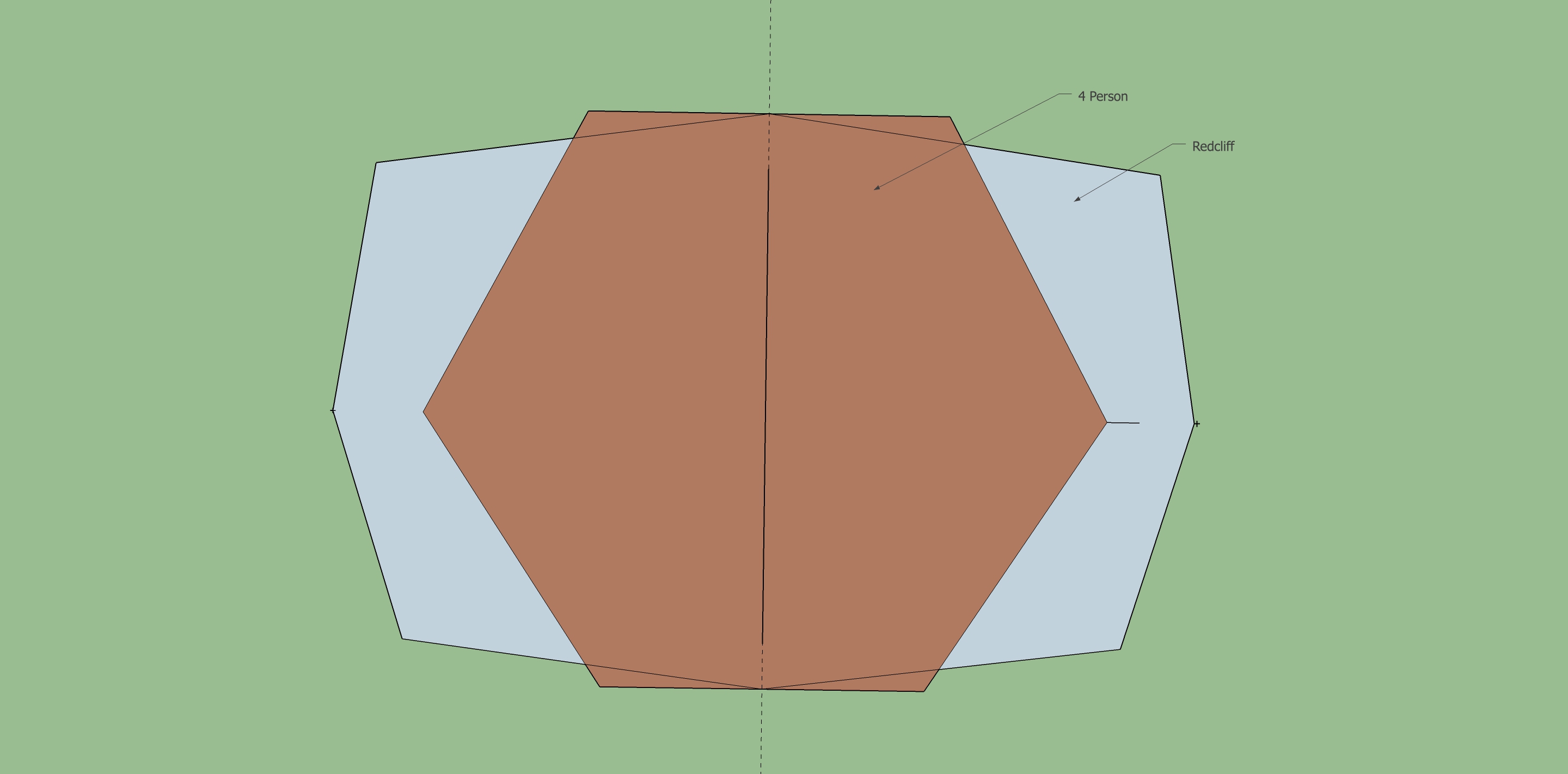 Reviews:
http://byland.co/bylandblog/seek-outside-redcliff-maiden-voyage
http://byland.co/bylandblog/seek-outside-redcliff-part-ii
Warranty:
Defects in manufacturing and material for the practical lifetime of the product. Damage due to wear and tear or misuse will be repaired for a reasonable charge.