Posted by on 7th Feb 2017
The Redcliff is a Seek Outside original. Part tipi, part pyramid, and all versatility the Redcliff is big enough for families and car camping while being light enough for large groups to carry backpacking. A symmetrical shape and subtle angles on all panels make it capable of shedding strong wind, rain and snow, while pitching nearly as fast as our Cimarron.

Stake the four corners in a loose rectangle, insert the center pole, and add four more stakes at the doors and center-ends, and your Redcliff should be up and ready in two minutes or less.
The Redcliff is as tall (6'10") as our 4 person tipi, and has the floor space of the 6 person tipi. It comes standard with a stove jack and six mid panel guy points. It fits the Cougar (shown above) or Cimarron nest, and can be purchased with liners and screen doors. Like all Seek Outside shelters a sod skirt, dual doors, and tough silnylon cut and sewn just right are standard.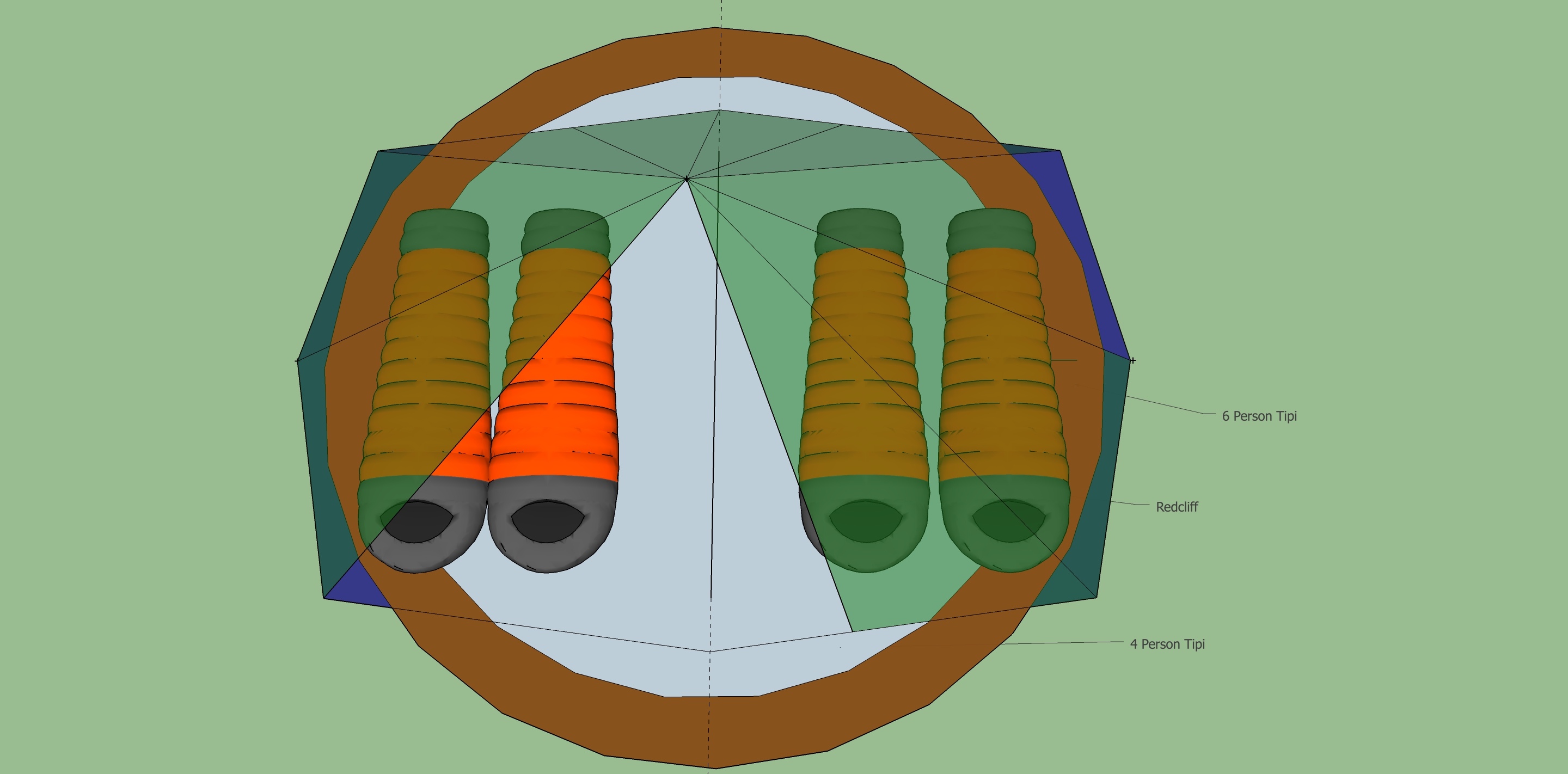 Silicon coated nylon is can be found just about anywhere these days, but the differences in quality and performance can be enormous. Our silnylon is made from nylon 6.6, whose base is formed from longer chain molecules than the more common nylon 6 or robic fabrics. Because our tents are made from materials whose tear strength is so high, we can take full advantage of the stretch inherent in nylon. We cut our tent panels carefully, such that there is some, but not too much stretch along each seam. Because of this, the Redcliff can be tensioned drum-tight between the center pole and stakes, which improves snow shedding and makes it quiet in the wind, all of which add up to a better nights sleep.
Lots of quality fabric, plenty of tough Cordura-reinforced and bartacked stake loops, and burly #8 YKK zippers don't make for the lightest tent. The Redcliff weighs in at 3 pounds 10 ounces for the canopy only, and with 8 stakes miniumum and some kind of center pole required on top of that mean that the trail weight of the Redcliff will usually be between 4 and 4.5 pounds. Stronger trekking poles, such as the BD Alpine Carbons, can be linked and used in the Redcliff during milder conditions, but for snow and stronger wind something burlier is recommended, like the included carbon pole. A 210cm paddle, such as you might use packrafting, is the perfect length for a drum tight pitch. And since that 4 or so pounds can be functionally split amongst a group of 4, with plenty of room inside for gear, the math isn't too bad.
Redcliff 360 Look Around:
Click to be able to move mouse and look around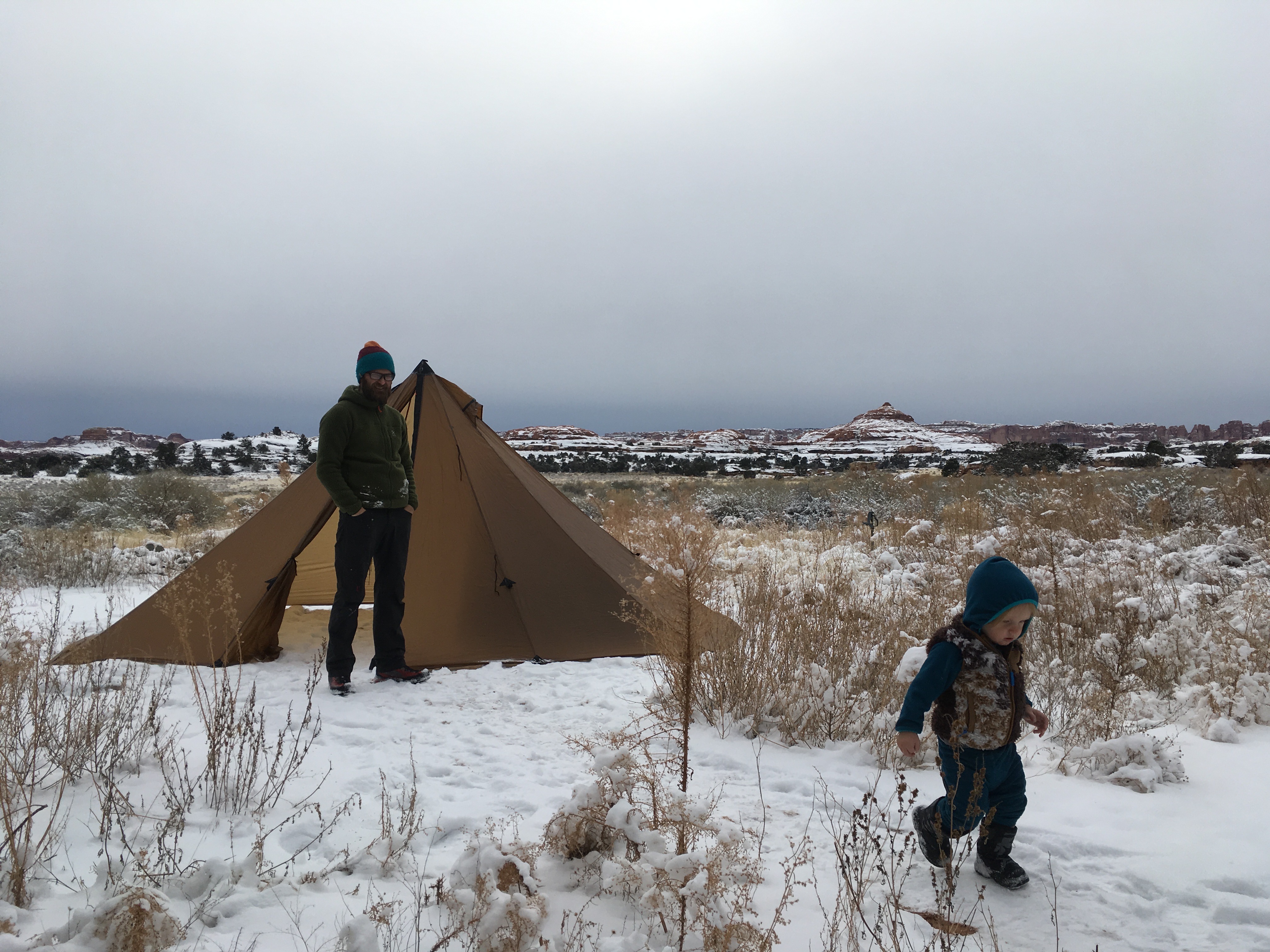 Aside from having a generous footprint, the Redcliff also has lots of interior height. This makes it ideal for hanging out around the stove in cold weather, or giving your toddler room to run around inside after dark or during a storm. The Redcliff blends comfort and strength in equal measure, making for a shelter that will fit many niches, and last for years.
…