Posted by on 29th Jan 2017
Last week I wrote about a gear testing trip into the Escalante. Today I'm back with the video report, as well as some thoughts about gear selection and trip planning for a backpacking in the Colorado Plateau during the heart of winter.

Logistics:
Statistics will tell you that January is one of the wetter months of the year. Unlike the wettest months of July, August, and September which see their precipitation fall in big, occasional thunderstorms, winter rain and snow fall more gently and usually come within a storm system that persists for days. The chief concern with summer rain is that it will cause a flood that might destroy the road out from the trailhead. The chief concern in winter is that snow will turn those same roads into sticky, undriveable clay. And winter storms often bring clouds which linger and prevent roads from drying, any time soon.
Choosing trailheads wisely is important, something I failed to do on this trip. When in doubt, start from pavement, summer or winter.
Snow is also a logistical hazard while hiking. Slickrocks slopes which are when dry easy are when snowy either terrifying or downright impossible. I reminded of this last week; the map below tells the story. Snow fell to 5400' the night before, and while the sun was bright the next day temperatures never got above freezing. The tight canyon contours suggest the possibility of an unclimbable fall (which there was, 2:36 in the video), and the northwest facing slopes to canyon left suggest the possibility of snow impeding the bypass, which there also was.
Elevation, aspect, steepness, and composition are all factors to keep in mind when choosing canyon routes in winter. The way these factors play out in not entirely like avalanche hazard, and just as with slides sometimes the only responsible thing is to turn around.
At least I got to walk though the extended non-technical narrows, shown at length in the video, twice in one day.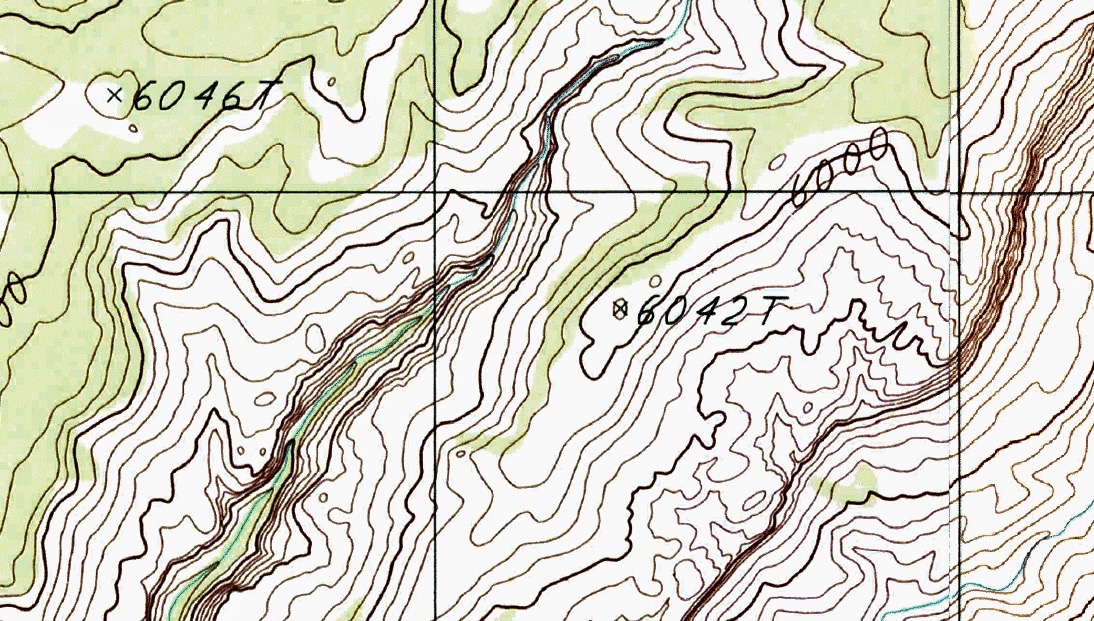 Gear:
A backpacking trip that involves lots of wading and river crossings up to waist deep, as well as snow and nights well below freezing, involves a lot of packing nuance. Being able to dry clothing and warm up with one of our wood stoves each night and morning is not strictly necessary, but it was very welcome. From a psychological perspective the pack weight was worthwhile. Fuel was easily had down in the canyons due to cottonwood driftwood and the detritus of tamarisk eradication. In a sensitive environment like the high desert gathering downed wood, burning it in an enclosed vessel, and scattering cold ashes after is the only sustainable way to have fires.
On this trip I brought four pairs of socks, which were the only redundant clothing items in my pack. I had two pairs of thin knee-high liners, one pair of thick wool socks, and a pair of NRS Hydroskin neoprene socks. I wore liners and Hydroskins during the day, and the thick wool socks in camp and while sleeping. The liner/neoprene combo is the only thing I've found that keeps my feet acceptably (though not always comfortably) warm in cold and wet conditions.
For my upper body I had five items; a Sitka Core LW hoody, Patagonia R2 fleece vest, Black Diamond Hot Forge down jacket, Black Diamond Alpine Start windshirt, and a Haglofs Goretex anorak. I never wore the Goretex, and wore the Core hoody and Alpine Start the whole time. I often wore the vest while hiking, especially late and early in the day, and when doing frequent river fords where cold exposure on my legs drained body heat. The down jacket was for breaks, camp, and emergency warmth. Over the past decade I've often experimented with going out in more difficult conditions with less than five items for my upper body, and on every occasion ended up missing whatever I'd left behind. These days I don't bother taking less, I just vary the warmth of the baselayer, vest, and puffy to suit the conditions.
My pack was a prototype without side/bottle pockets, which on this route ended up a mixed bag. In the past I've found such pockets to be a liability on scrambly, more technical routes. They snag in brush and get shredded while climbing through slots, but are convenient while just hiking. More research is needed in this area.
Any questions? Please ask in the comments.

…