Titanium Tent Wood Stoves
Our Mission
Produce durable lightweight packable wood stoves for hot tenting , cooking and long term use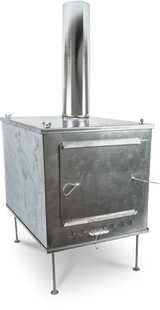 Grade 2 Titanium
Handles melting temperature over 3000°F & never rusts
Triple Bent Seams
Seals tightly to control airflow
Damper With Spark Arrestor
Included with each stove
Grade 2 Titanium
Handles melting temperature over 3000°F & never rusts
Triple Bent Seams
Seals tightly to control airflow
Damper with Spark Arrestor
Included with each stove
Titanium Tent Wood Stoves
Portable Wood Stoves and Portable Tent Stoves
Our Portable Wood Stoves are a perfect complement to a cold winter camping trip. Hot Tents have been exploding in popularity over the last several years, and for good reason. Winter trips are beautiful, crisp, and often serene as other campers are deterred by the frosty temperatures.
We utilize Grade II Titanium in our stoves because it is lighter weight than stainless, and it has melting temp rouhly 500 degrees higher. Titanium transmits more heat, is lightweight, stronger, and will last longer than a portable wood stove made from other materials.
Portable Wood Burning Stoves for Camping make cold weather camping much more fun and enjoyable.
These stoves assemble easily, and dissasemble to nearly flat and the stove pipe rolls up into a cylinder. Due to titaniums heat transfer efficiency, these are capable of heating your tent when it's really cold out and can keep coals for hours.
Availability: Stoves are always in production. Sometimes we have some models in stock, sometimes they are being built and can take 2 - 4 weeks.
Note: These are approved for winter use on Grand Canyon river trips, however you need to contact them and tell them you plan to use one. In other words they will work great for winter trips where fire pans have traditionally been required.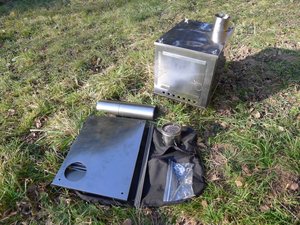 Packable Tent Wood Stove Comparison Chart
| | | | | | | |
| --- | --- | --- | --- | --- | --- | --- |
| Stove | Cub | Medium | Large | SXL | XL | Big Mama |
| Fire Box Width | 6" | 8" | 8" | 10.25" | 10.25" | 11" |
| Fire Box Height | 6" | 8" | 8" | 8" | 10.25" | 13" |
| Fire Box Length | 9" | 10.25" | 14" | 14" | 14" | 16" |
| Assembled Height | 9" | 12" | 12" | 12" | 15" | 18" |
| Assembled Weight(Incldes Damper / Legs / +Storage Bag) | 18 oz | 31 oz | 35 oz | 40 oz | 50 oz | sub 5 lbs |
| Stove Pipe Diameter | 3.125 | 3.125 | 3.125 | 3.125 | 3.125 | 3.125 |
| Stove Pipe Weight (Includes Rings) | 2 ounces per ft | 2 ounces per ft | 2 ounces per ft | 2 ounces per ft | 2 ounces per ft | 2 ounces per ft |
| Material | Titanium 30G | Titanium 30G | Titanium 30G | Titanium 30G | Titanium 30G | Titanium 30G |
| Volume CI | 350 ci | 660 CI | 940 CI | 1280 CI | 1440 CI | 2300 CI |

Made in the U.S.A from the best materials sourced both domestic and globally