Posted by Nathan on 17th Apr 2017
The frame height you need depends on torso length and expected loads.
| | | | |
| --- | --- | --- | --- |
| Torso Length | Up to 30 lbs | 30-50 lbs | Over 50 lbs |
| 15-16" | 24" | 24" | 24 or 26" |
| 17-19" | 24 or 26" | 26" | 26 or 28" |
| 20"+ | 26" | 26 or 28" | 28" |
The chart above ballparks the frame height needed in most situations. For more detail and fine tuning, read on.
---
Frame height is critical to comfort.
A comfortable backpack is one that does a good job of transferring weight from the shoulders to the hips.
Shoulder muscles tire quickly under even moderate weights, while the hips, core, and legs contain the largest muscle groups in the body and can withstand much heavier loads in comfort for far greater distances.
To transfer loads from the shoulders to the lower body, the frame needs to be tall enough for the load lifter straps to be able to pull up on the shoulder harness, creating shoulder lift.
Traditionally, backpack companies dealt with torso length by forcing you to choose between small, medium, or large frame heights.
---
Frame height innovation from Seek Outside.
Seek Outsides' Patented Articulating Frame and suspension simplifies frame height decisions.
Instead of buying a Small, Medium, or Large frame height, you buy one frame and then adjust the frame height to suit your needs.
Our base frame is 24" tall and can be adjusted to 26" or 28" through the use of frame extensions.
So, which frame height is right for you? The answer to this question depends on a couple of factors.
Your torso length.
Your expected load weights.
---
Finding Torso Length
Torso length is the distance between the protruding vertebrae at the base of your neck - known as C7 - and the bottom of your back.
To measure, recruit some help. Take a soft tape and hold it in the center of C7. Next find the top points of your hipbones and draw an imaginary line across your back between those points.
The distance between C7 and the line that connects the iliac crests is your torso length.
For reference, a 15" measurement would be a short torso, 18" about average for an adult male, and 22" would be a very tall measurement.
---
That's great, but what does it mean?
If you're on the lower end of the torso length scale - say 15-16" - then you'll probably be very happy with the base frame height of 24".
If you're in the middle of the scale - 17-19" - then you can probably use all three frame heights depending on your expected load.
If you're in the upper end of the scale - 20"+ - you will probably be happiest with either a 26 or 28" frame.
---
How do expected loads affect frame height?
A taller frame is more comfortable for heavy loads than a shorter frame - within reason. If you have a 15 inch torso, then a 24 inch frame IS a taller frame for you.
If you have an 18 inch torso and plan to carry heavy loads of 50 plus pounds, then a 26 or 28 inch frame is recommended.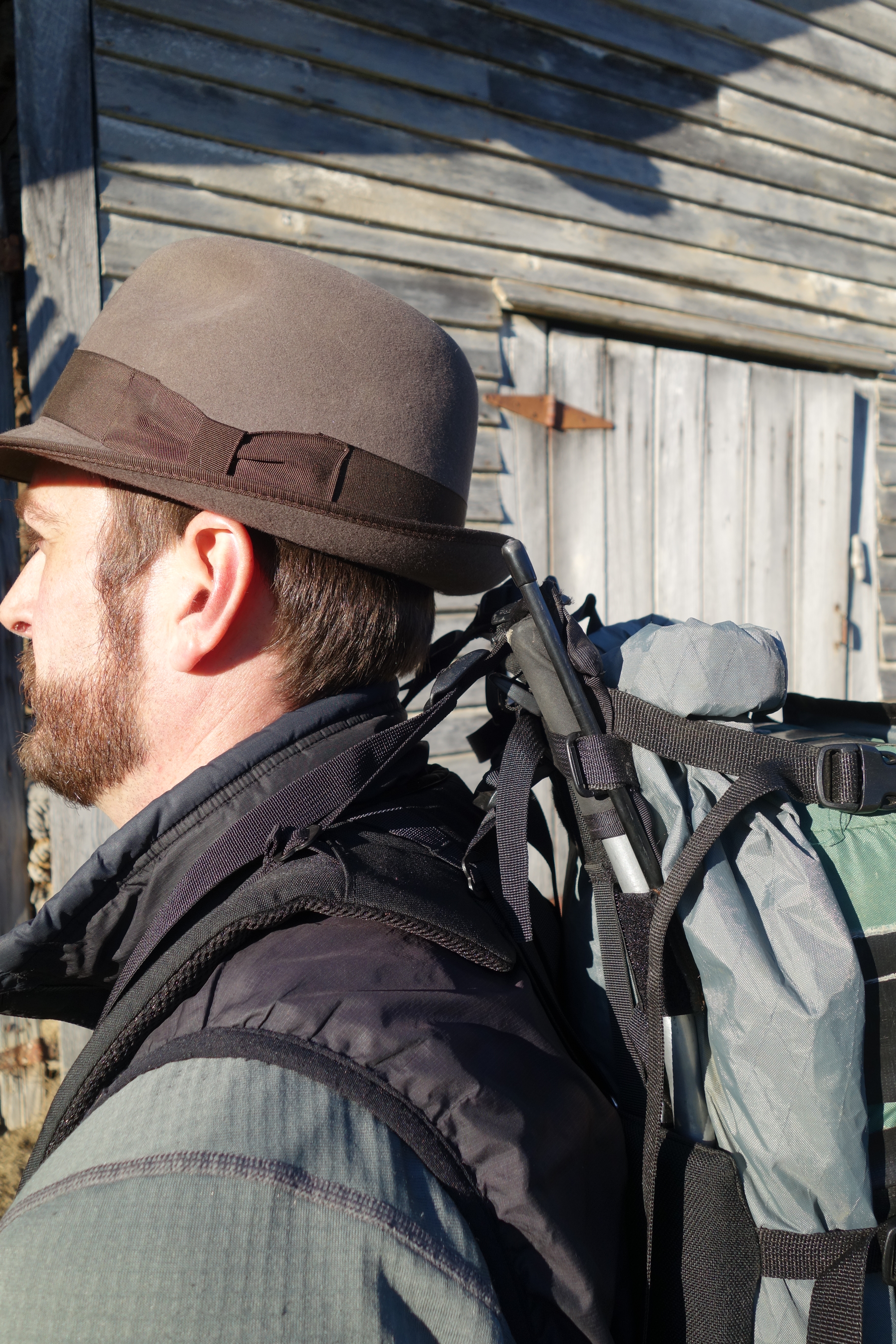 Backpack hunters especially are faced with the prospect of carrying extremely heavy loads approaching or exceeding the century mark. Under these conditions I much prefer a 28 inch frame for nearly every torso height.
The reason? Because the taller frame gives you more real estate to carry bulky loads, and more importantly allows you to distribute the load so that 70% is centered over the shoulder blades. This arrangement gives you good balance without being "tippy".
The value of our adjustable frame height really comes into play for backpack hunters in another way.
If you hoof it four miles into basecamp and day hunt from there, our pack is two in one. With the extensions it is your heavy hauler.
After you're in camp, simply remove the extensions and you've converted the pack into a much smaller profile day pack suitable to slipping through dark timber.
---
A note on sizing and fit.
Our packs feature an easy to adjust harness and hipbelt that allow it to to fit different body types quickly.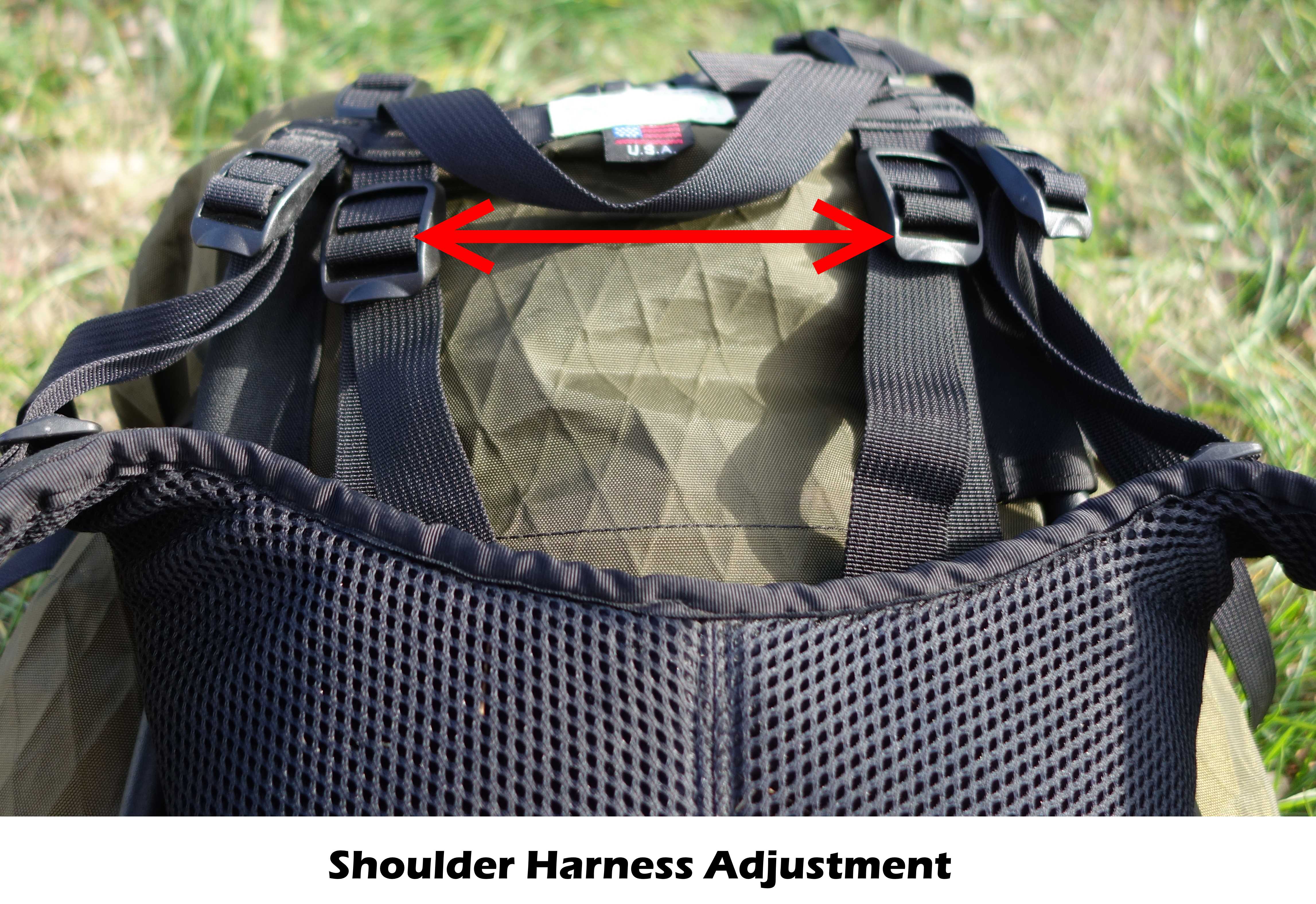 Shoulder harness adjustment is controlled by two ladder locks that you can reach while wearing the pack, so the easy way to adjust the harness is to tighten the adjustment straps before putting the pack on, then loosen them to raise the harness while wearing the pack. This method takes a couple minutes practice, but is dead simple and easy to master.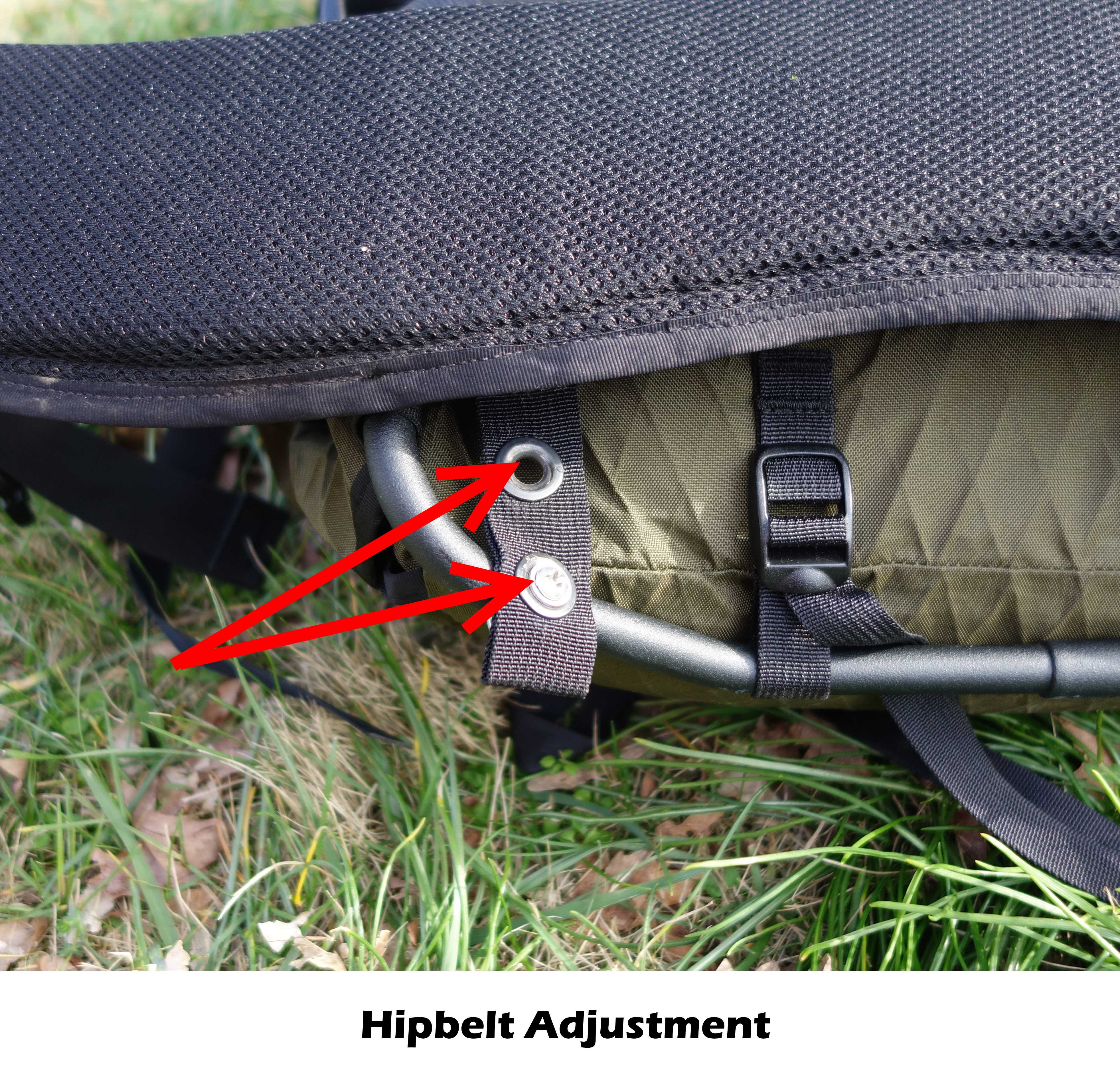 Hipbelt adjustment is performed by moving the lower frame connection to one of two grommets extending from the hipbelt. The top grommet gives a fit range for longer torsos while the bottom grommet fits shorter torsos. The grommets are held by a machine screw and nylock nut. The need for basic tools to make this adjustment dictates that it is something to do at home rather than on the trail.
Putting frame height, shoulder, and hipbelt adjustments together allows for a wide fit range. I am 6' 3" and have an 18.5" torso. My wife is 5' 5" with a 15.5" torso. We use the same backpacks.
…