Posted by Ryan Sapena on 23rd Mar 2023
If you've decided to take up bowhunting, you've likely already done your research on where to hunt, what state you'll be in, and what arrow setup you'll be using. But what's next? You'll need gear, and more importantly, a backpack to carry all of that gear. Choosing the right backpack can make a huge difference in the success of your hunting trip, so in this blog, we'll go over what makes a good bowhunting backpack.
But First, Consider Your Hunt
Many hunting backpacks are highly specialized for specific use cases. We at Seek Outside prefer packs that can be used effectively in many different scenarios. Fit adjustment, carry comfort, and modularity allow for exceptional hunting performance from archery to late season. The one factor that can limit you on a hunt is the capacity of the backpack. While a 3500 cubic inch backpack may be great for a quick overnighter, it likely won't be big enough for extended 3+ day backpack hunting trips. While a 6300 cubic inch backpack may be able to take you deep into the wilderness, it may be overkill for 1 to 2 night hunts.
Modularity
Many bowhunters hunt various species in various regions and therefore need a pack that can handle differing terrains, climates, and pack weights. You will need a pack that can switch to a different configuration for different use cases. Most bow hunters use breakaway carry bags, where the frame and suspension components can detach from the pack bag to become a load hauler. We recommend that the suspension and frame be able to comfortably carry over 85 pounds, as it is often used for packing out your animal. After packing out your animal, make sure it is easy to re-attach the pack body to the frame to keep clothing, food and other necessities dry and out of the weather. Easy access to wind testers and calls can also be achieved with additional hip belt pockets.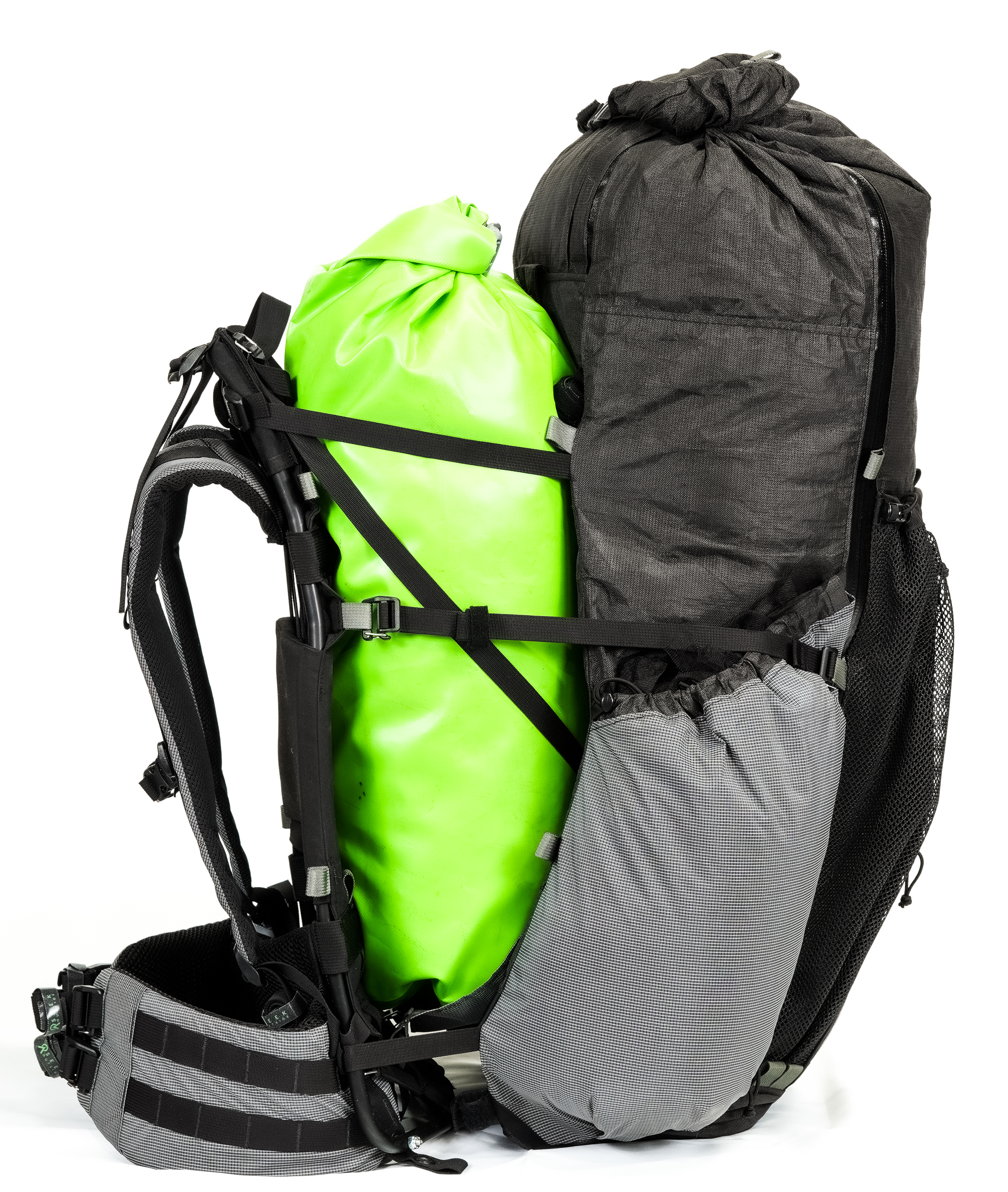 Breakaway carry with a dry bag between the bag and the frame
Functionality
When choosing a bowhunting backpack, there are a few main functions to consider. Range of motion and comfort are crucial. An important aspect of having a good range of motion and a comfortable pack is the fit. The backpack needs to be able to be customized to your body. How adjustable is the belt? Can the harness position move? What is the angle on the load lifters? Can the weight be distributed higher? Since bowhunters expect to carry varying weights, we recommend choosing highly adjustable packs and frames. Look for a backpack with a way to change the frame height, torso length, and hip belt fit. The more customizable the suspension components are, the more likely the pack will carry heavy loads more comfortably.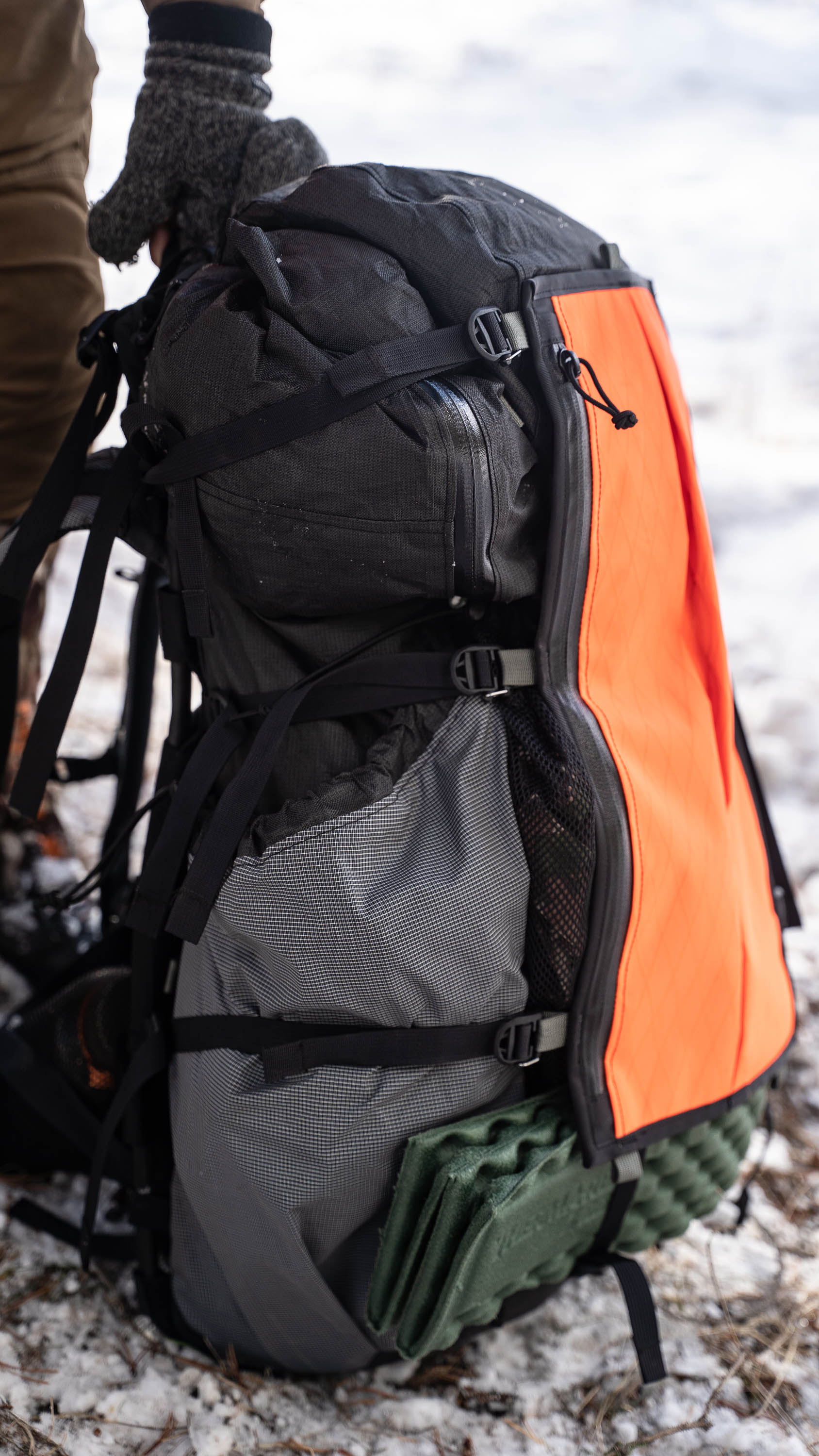 Durability
When choosing a backpack, durability should be a top consideration that you do not want to compromise on. In general, the adage "you get what you pay for" applies to this factor. Opt for heavy-duty materials that can withstand tough conditions without sustaining damage. It's also wise to choose a backpack with replaceable components to ensure longevity. To ensure quality, research the reputation of the company you're considering. Established outdoor gear companies typically have a good track record of producing durable products. When it comes to materials, 400 and 500D Cordura are often used in the industry. We at Seek Outside prefer to use Ultra400 PE as it achieves the lightest weight without compromising on durability.

Bag Noise
As a bow hunter, you understand the importance of remaining undetected while out in the field. However, one aspect that is often overlooked is the noise generated by your backpack. Whether it's the sound of zippers or fabric hitting brush and branches, backpack noise can be enough to alert game animals and cause them to flee. To avoid this, it's essential to consider the noise level of your backpack fabric. Look for a pack that has noise-reducing features such as quiet zippers, silent fabrics, and minimal straps or buckles that can clang together. Make sure the fabric Additionally, you can also take steps to minimize noise by packing your gear strategically, so it doesn't shift or make noise while you're walking.
Recap
My favorite backpack for bow hunting is the Goshawk 6300 with an Ultragrid talon. This is a pack that has plenty of space, compression options, and functionality for bow hunting trips. The side zipper allows for easy access to the bottom of the pack, and the adjustability of the suspension is unmatched. The external compression loops and talon make packing my bow away simple, and the breakaway carry suspension makes it easy to haul out my animal. If the Goshawk 6300 is too much bag for your style, we also make a smaller version in the Goshawk 4800.

…