Posted by on 19th Jan 2017
SHOT show. Vegas. As a company that specializes in gear which allows people to get away from other people in as much ease and comfort as possible, there's a not inconsiderable irony in attending a showcase of hunting and shooting companies here. Cresting the Dry Lake Range coming south a few hours after dark, it's not just striking that I could finally see the city after driving towards it glow for the last 60 miles, it's remarkable how easily the individual hotels along the strip can be easily identified from 15 miles and 500 vertical feet away. The sight is nothing close to natural, and could hardly be more jarring, but is at the same time awe inducing in a way few things are, man made or otherwise.
In this Vegas is not entirely unlike SHOT itself. Held in a convention center with multiple floors and no windows whatsoever, the entirety of a diverse industry and the population of a small city (~50,000, according to rumors) are crammed in together. That many people, and the products of that much labor and creativity, cannot but be confusing. The following is what caught our eye over a few days of getting lost and finding ourselves again on the show floor.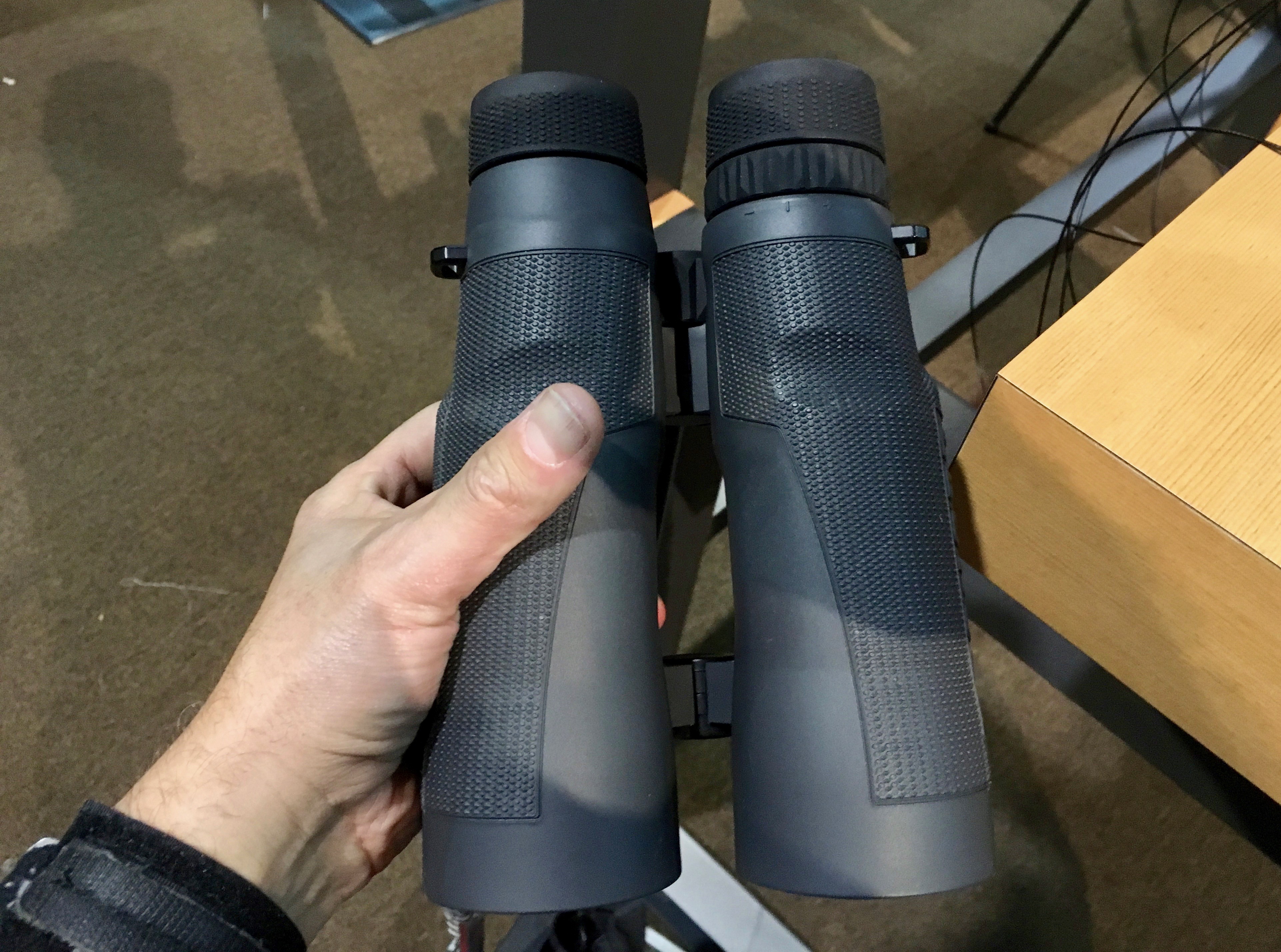 Leupold is getting into the big eyes game with their BX-5 15x56 binoculars. As you'd expect from Leupold, they're impressively light for their size, and have generous eye relief. Evaluating optics in entirely artificial light is inherently problematic, but these certainly looked promising. Estimated MSRP is $1300-1500.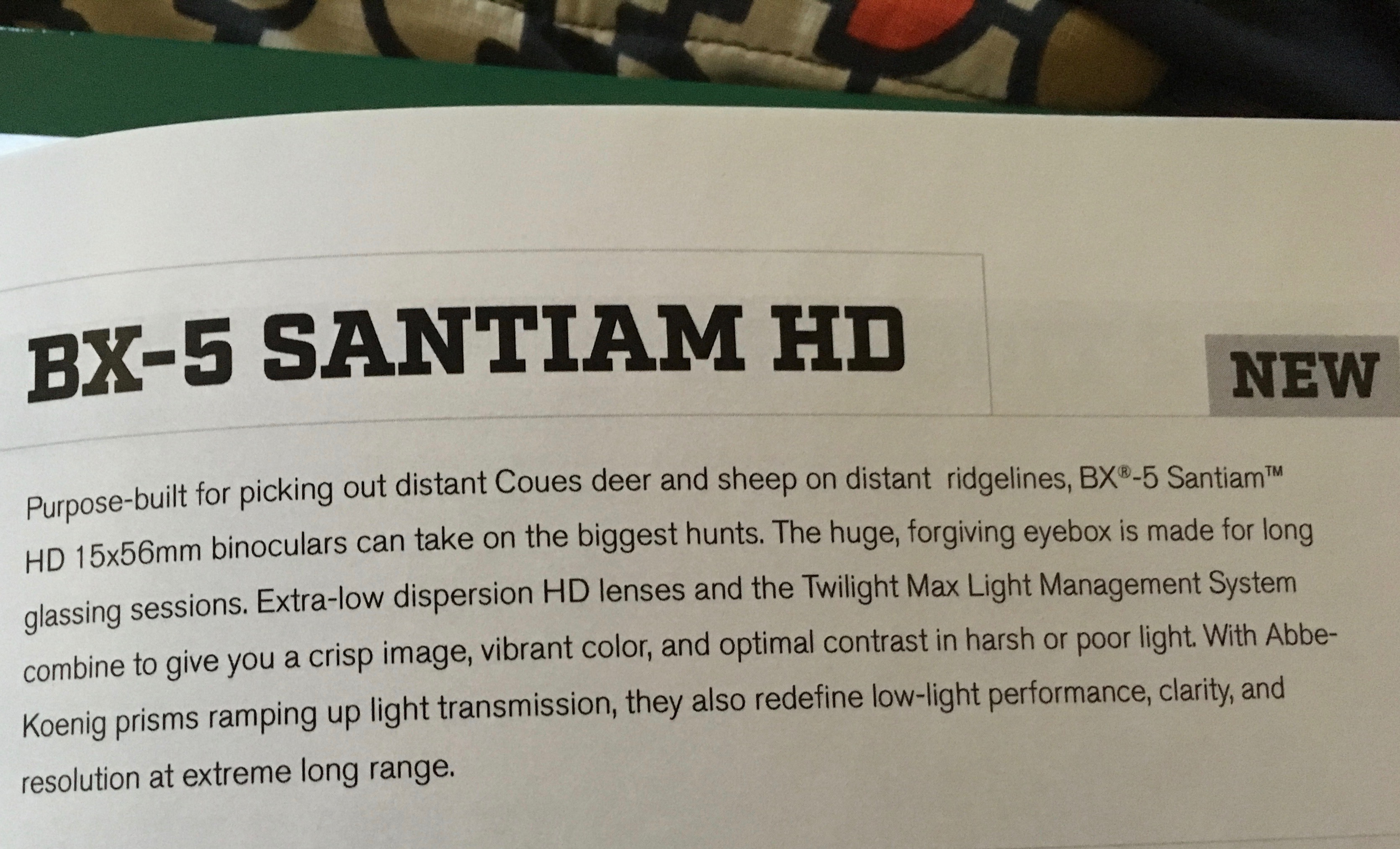 As backcountry folks we're often biased towards lighter, lower power optics. Leupolds VX-6HD 1-6 is a good example. The low-profile turrets are pragmatic, and the power throw switch impressively smooth.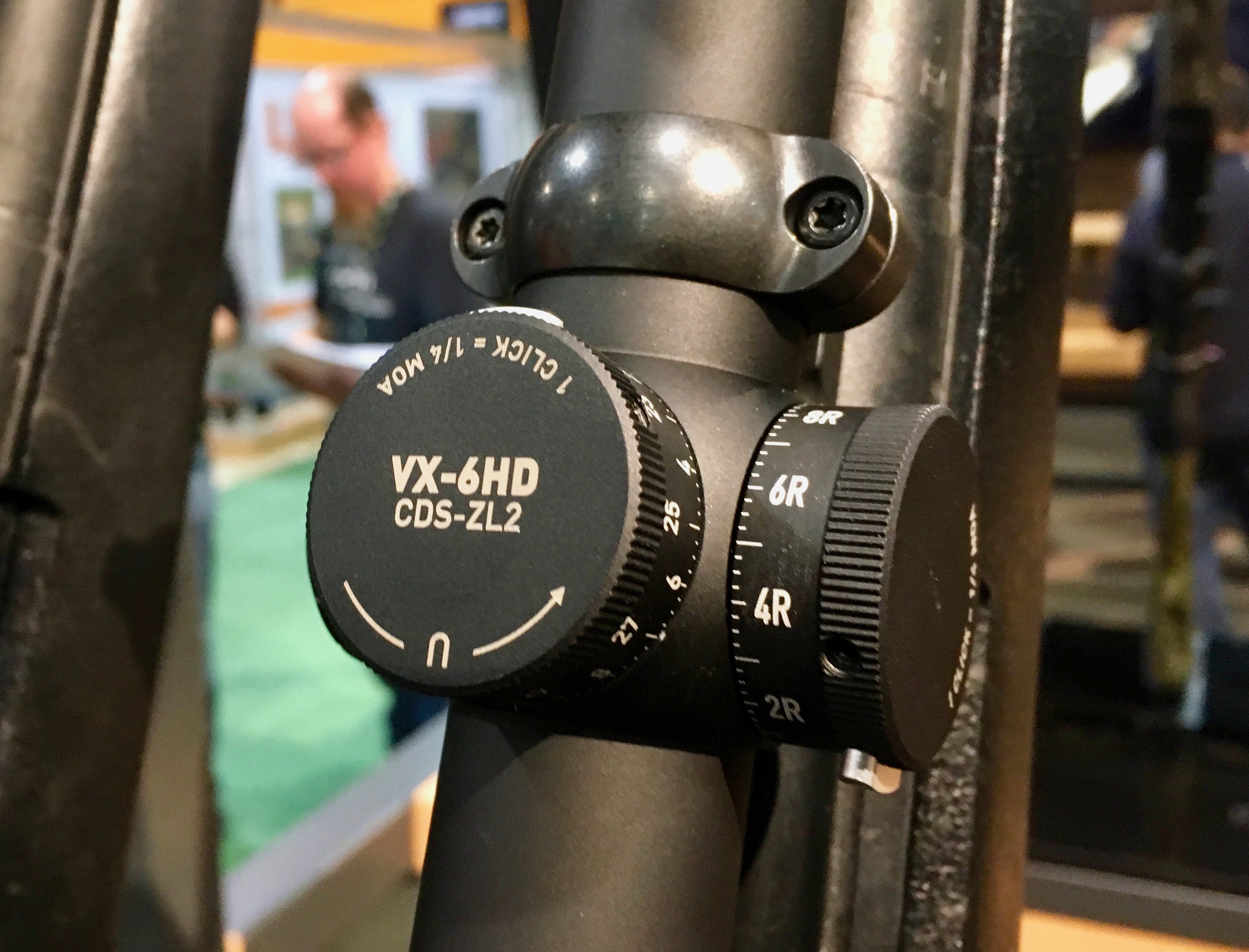 Eye relief on max magnification is a bit shorter than would be ideal, a small niggle in an otherwise impressive package.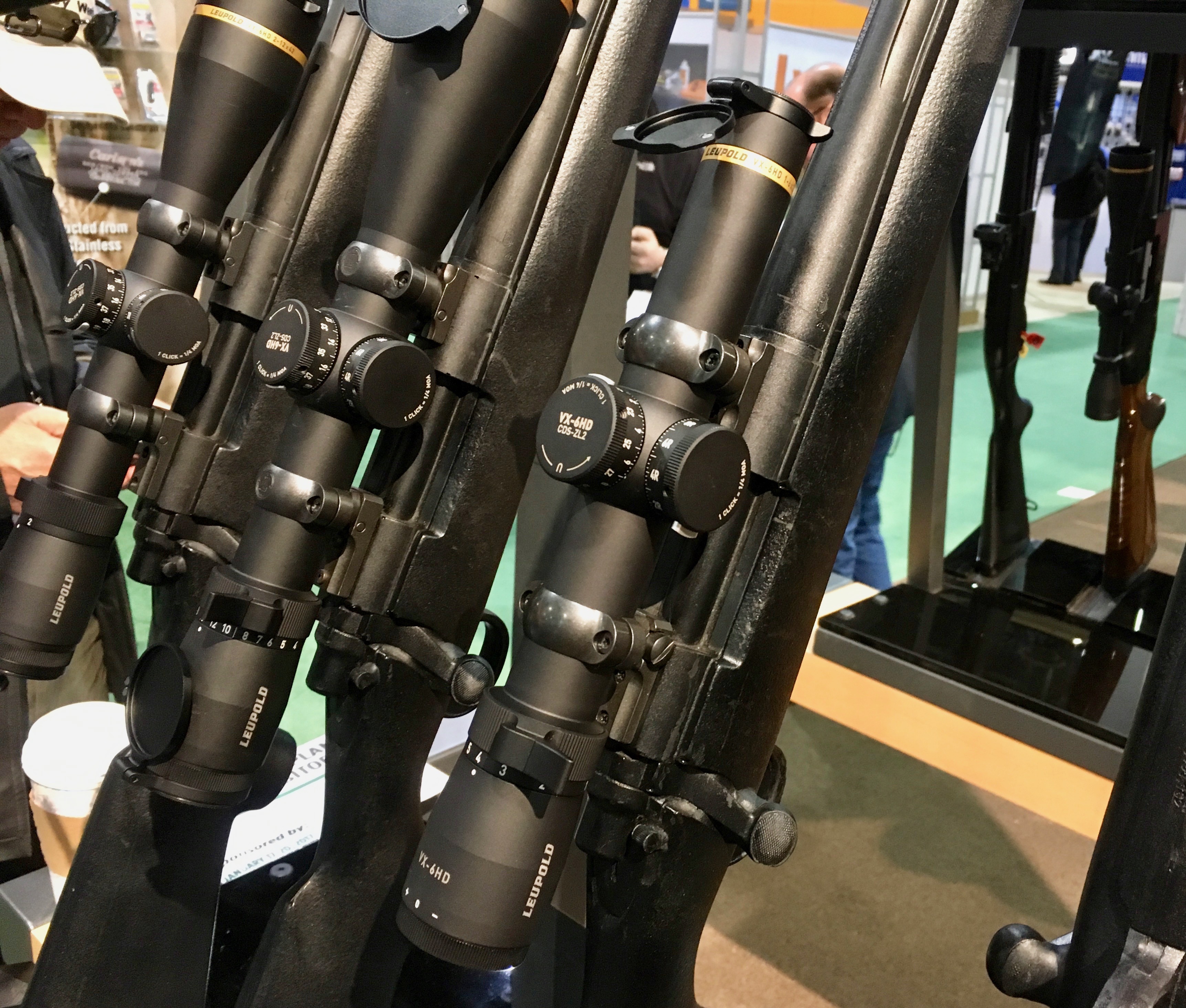 Vortex's Razor HD LH 1.5-8 is another example. The zoom range is large and easy to use, and eye relief is impressively consistent throughout. It's a lot of scope for 13 ounces.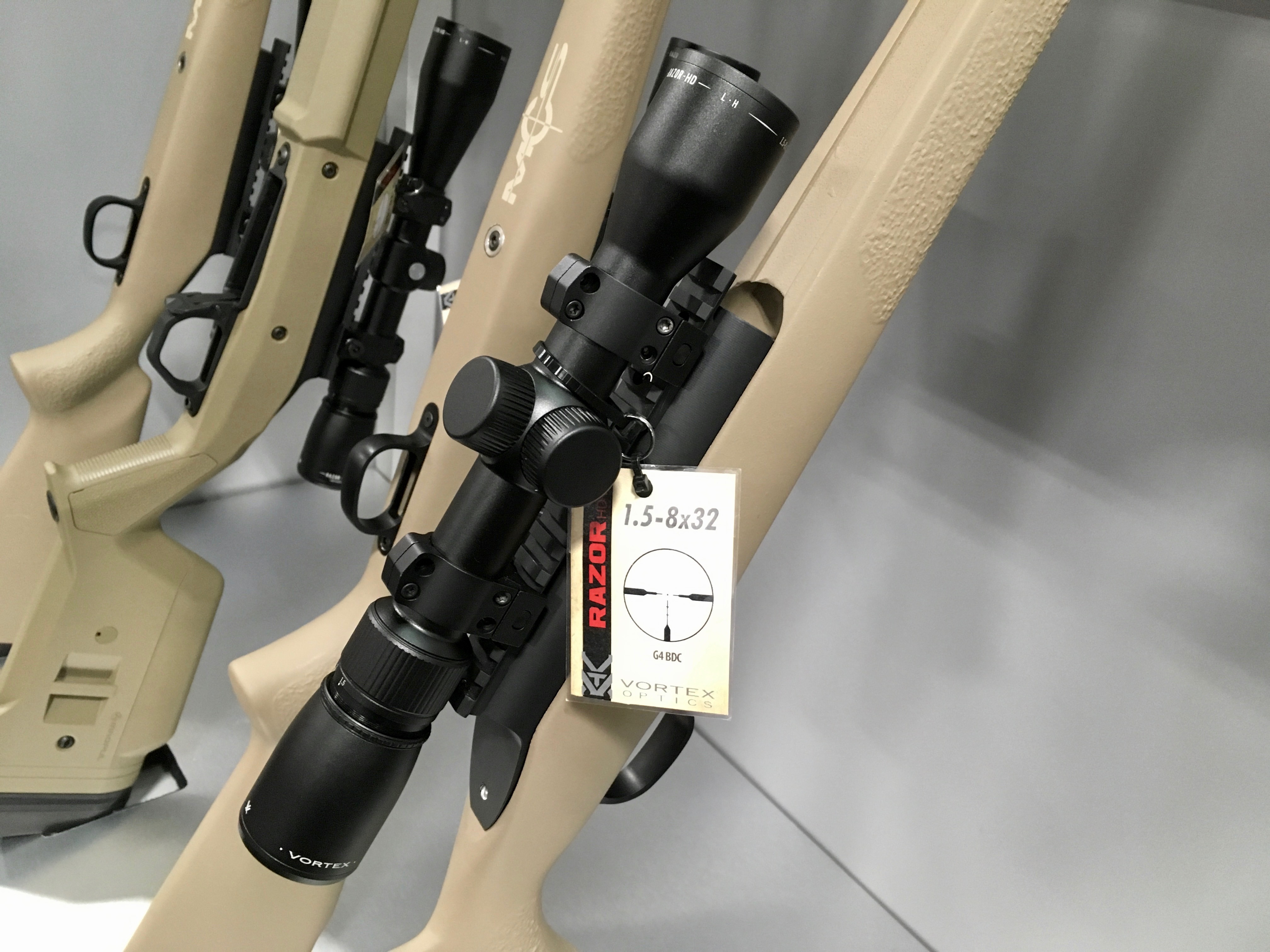 Kowa's TSN 553 (angled) and 554 (straight) are the first new word in compact spotting scopes in a few years. With a 55mm objective, 15-45 zoom range, 28 ounce weight, and Flourite crystal lens it will be interesting to see how real world performance shakes out.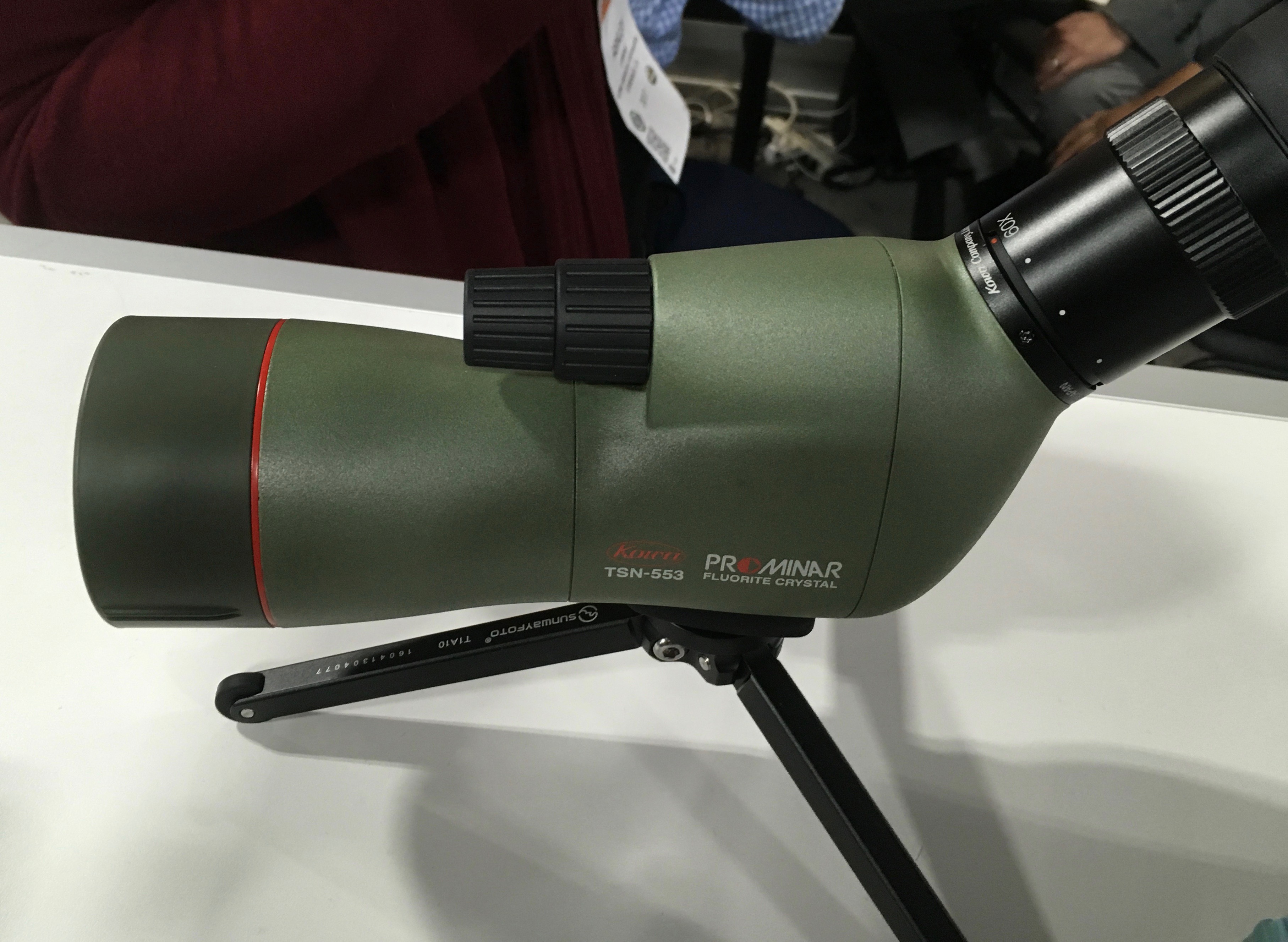 The Kimber Montana, Mountain Ascent, and Adirondack have rightfully become the benchmark in lightweight production rifles. Stainless actions scaled to caliber, tough synthetic stocks with fast-handling ergonomics, and a predictable trigger combine to provide a lot of value in a not-too-expensive package.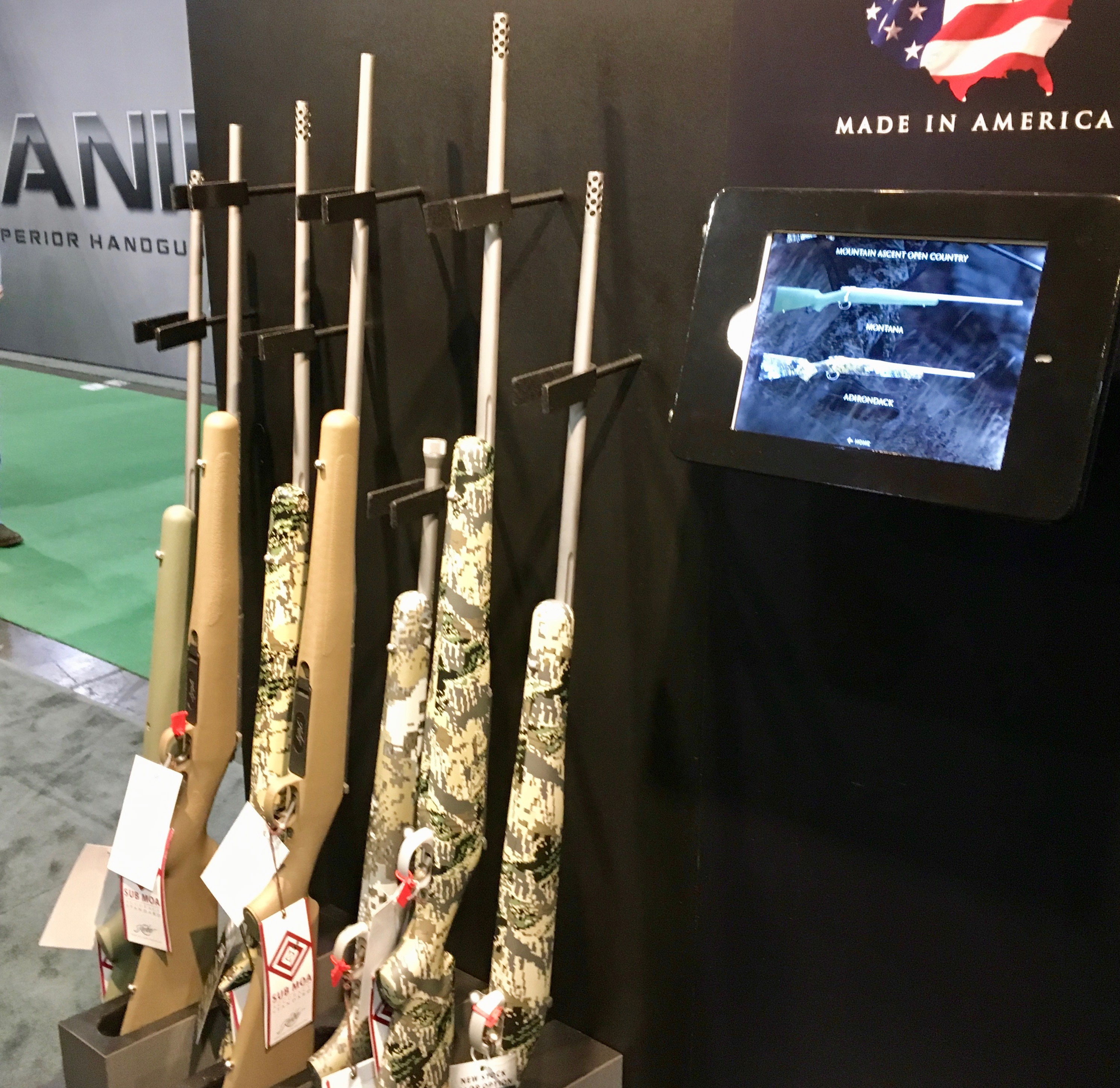 The Kimber Hunter is available in a full range of short and long action calibers and presents the signature Kimber action and barrel in a cheaper, and slightly heavier plastic stock (with integral trigger guard). The new Subalpine has a threaded barrel, fluted bolt and barrel, and a carbon stock in Sitka's new pattern. The Montana and Mountain Ascent are available in Moss Green (below), and the Adirondack remains the same, with 16-18 inch barrels in 6.5 Creedmore, 7mm-08, .308, and .300 Blackout.
Another great-looking option in lightweight rifle is the Barrett Fieldcraft. Weighing it at 5-6 pounds, depending on long or short action, with stainless barrel and action, blind magazine, and push-feed action with 2 position safety. Most significantly, the .243 will come with a 1/7 twist, opening the door for 100+ grain bullets. MSRP will be around $1800.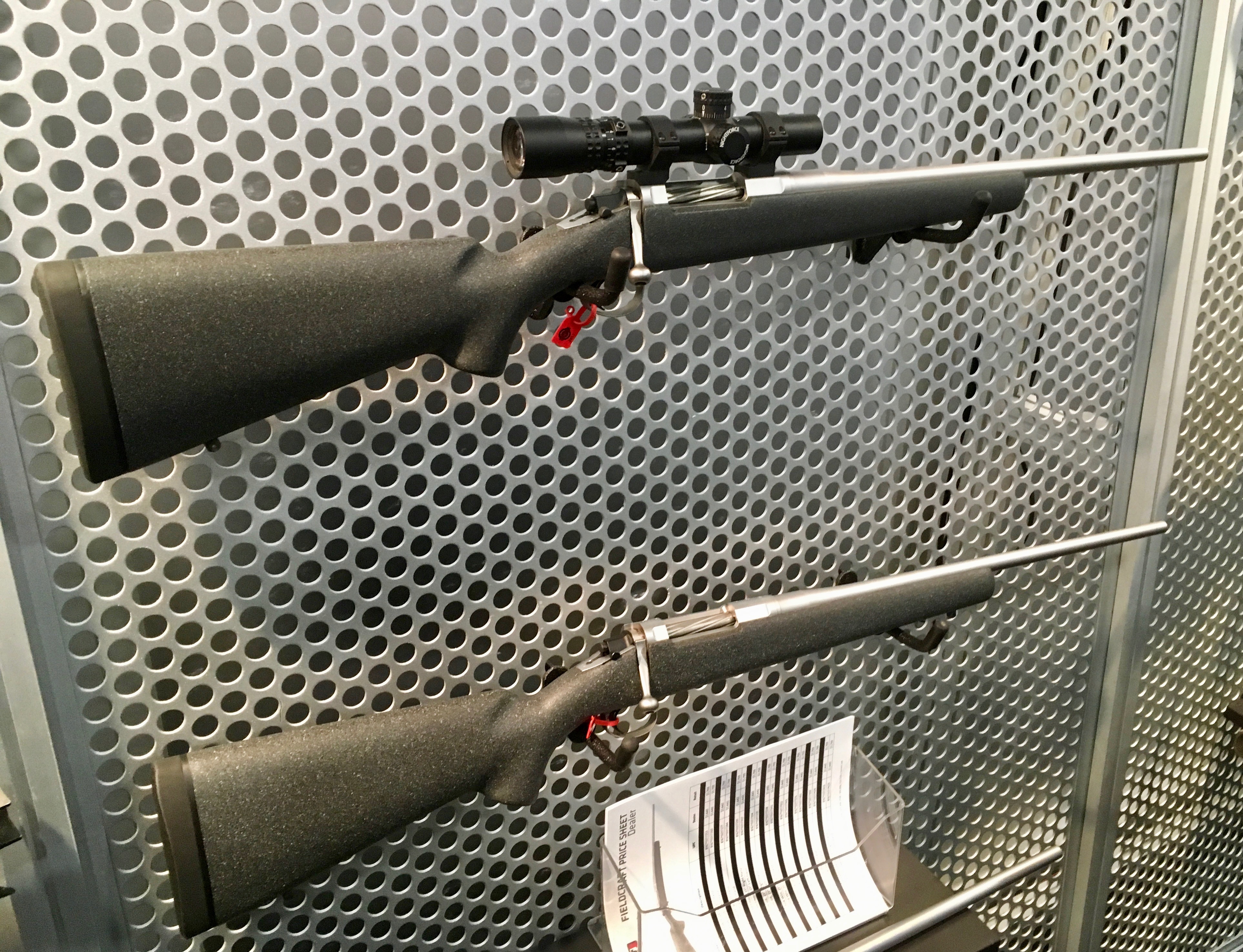 ARs and modern sporting rifles continue to be a massive growth area, the number of manufacturers and especially parts and accessories manufacturers is dizzying. I haven't come around to them for hunting, mainly due to overall weight. If I were to do so, Danial Defense would be at the top of my list.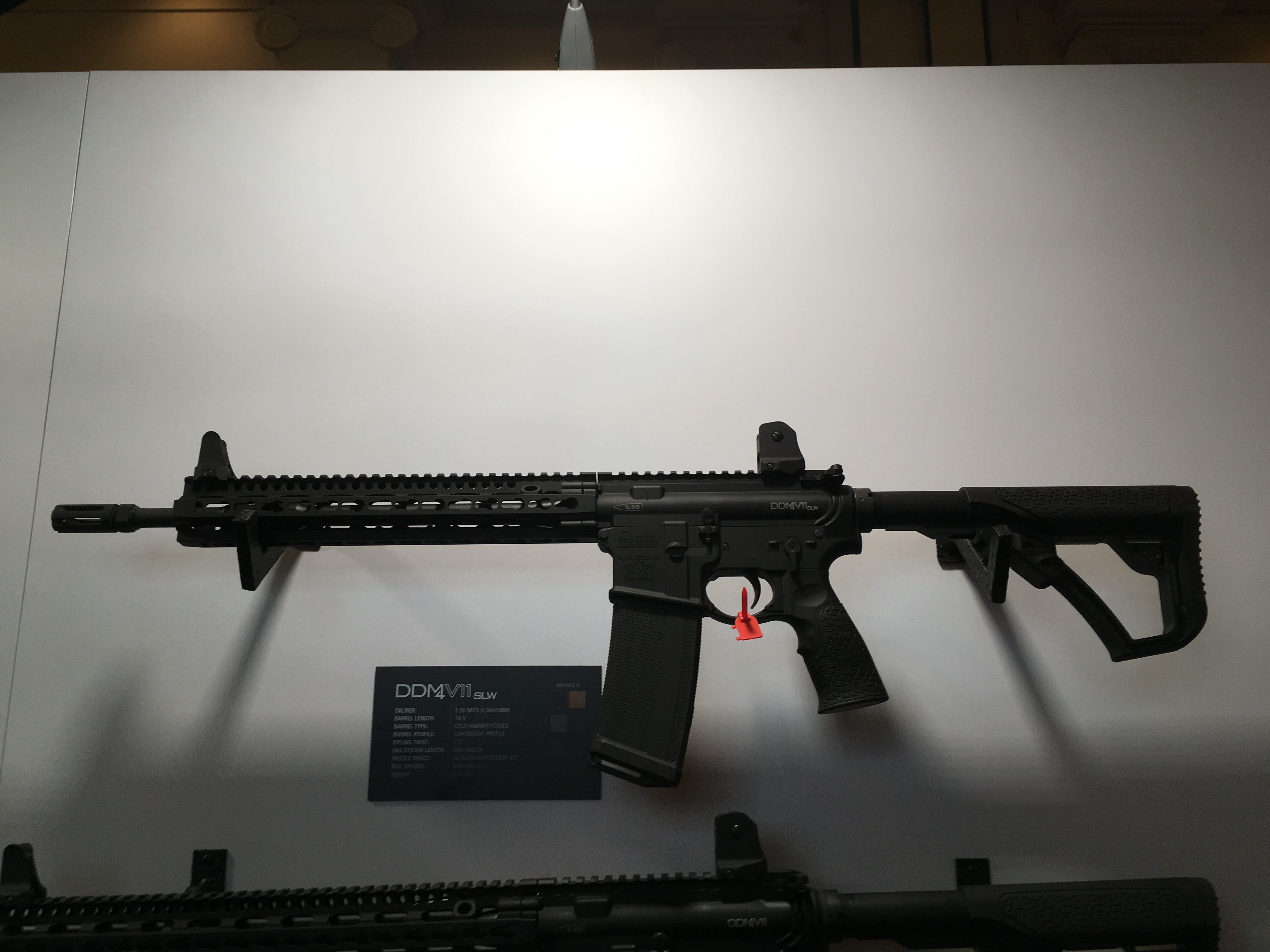 Not only are they among the lighter ARs, they are without exception visually coherent and solid-feeling.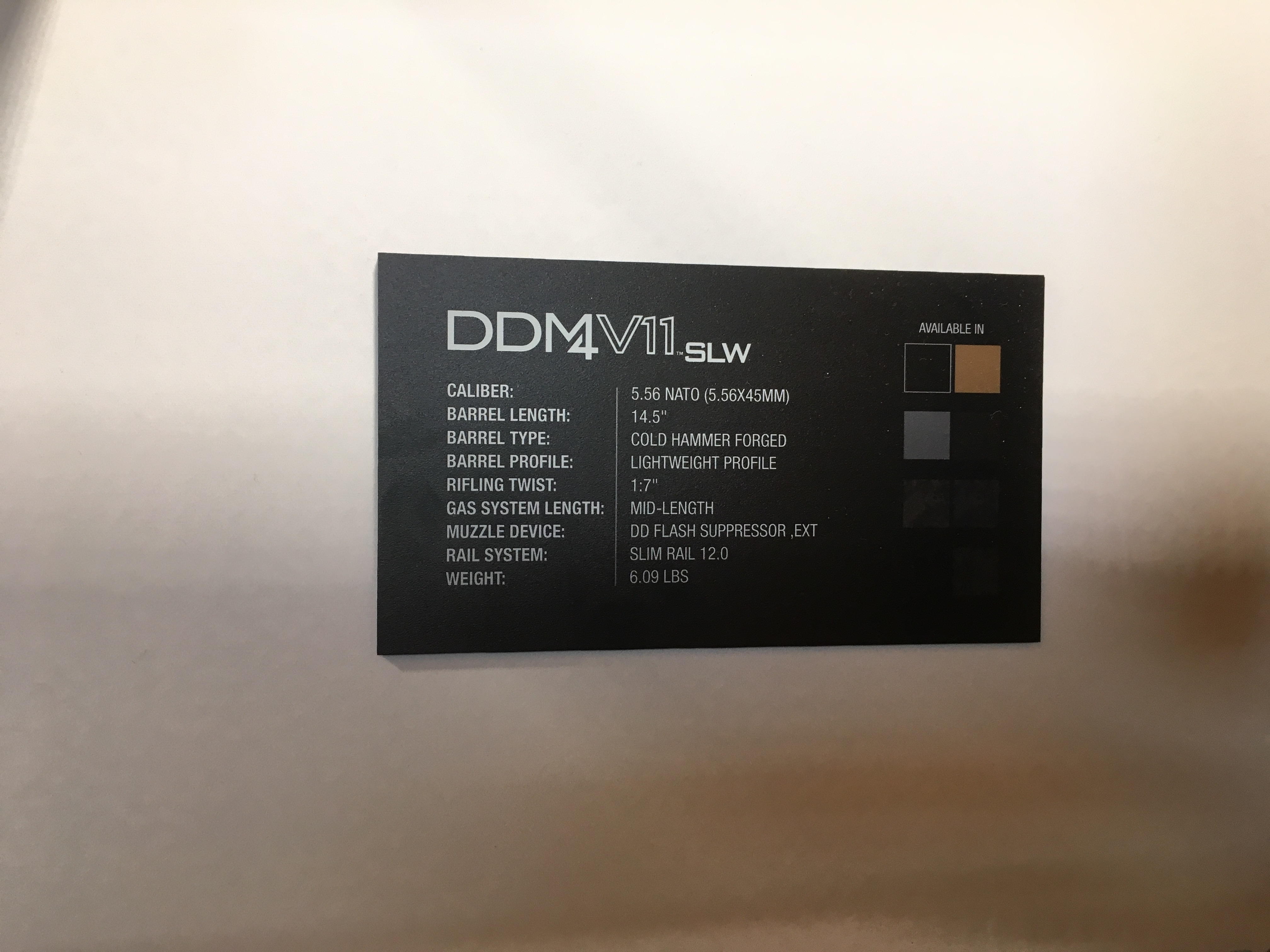 Of course, when it comes to aesthetic firearms few things can rival a nice double gun. There are plenty of such makers at SHOT, but I'd pick a Fausti side by side over almost all of them.
Sitka had major new things in every corner of their booth. Their subalpine pattern, designed for early season western bowhunting (on the ground, "engagement distances under 50 yards") is matched with an entirely revamped Ascent line. The excellent Core Lightweight hoody how comes with a deep zip and integrated facemask. The Kelvin Active jacket is built with Polartec Alpha, the 5 ounce Ascent shirt has zoned mesh under the arms, and the Flash Pullover is a nicely contoured windshirt with taped Gore Windstopper. The new Ascent pants are the lightest pants I can think of with removable knee pads, by a significant margin.
All of these pieces are also available in Sitka's Open Country pattern.
Sitka's new women's clothing, both whitetail and big game, has also been getting a lot of attention. On the whole the pieces have obviously been tailored specifically for women's needs. For instance, the women's Fanatic Jacket and Bibs feature a bit of foam padding in the seat and back of the shoulders, to fight convection while sitting in a tree stand. This seems like a handy bit of design that might well make it's way into the men's line soon.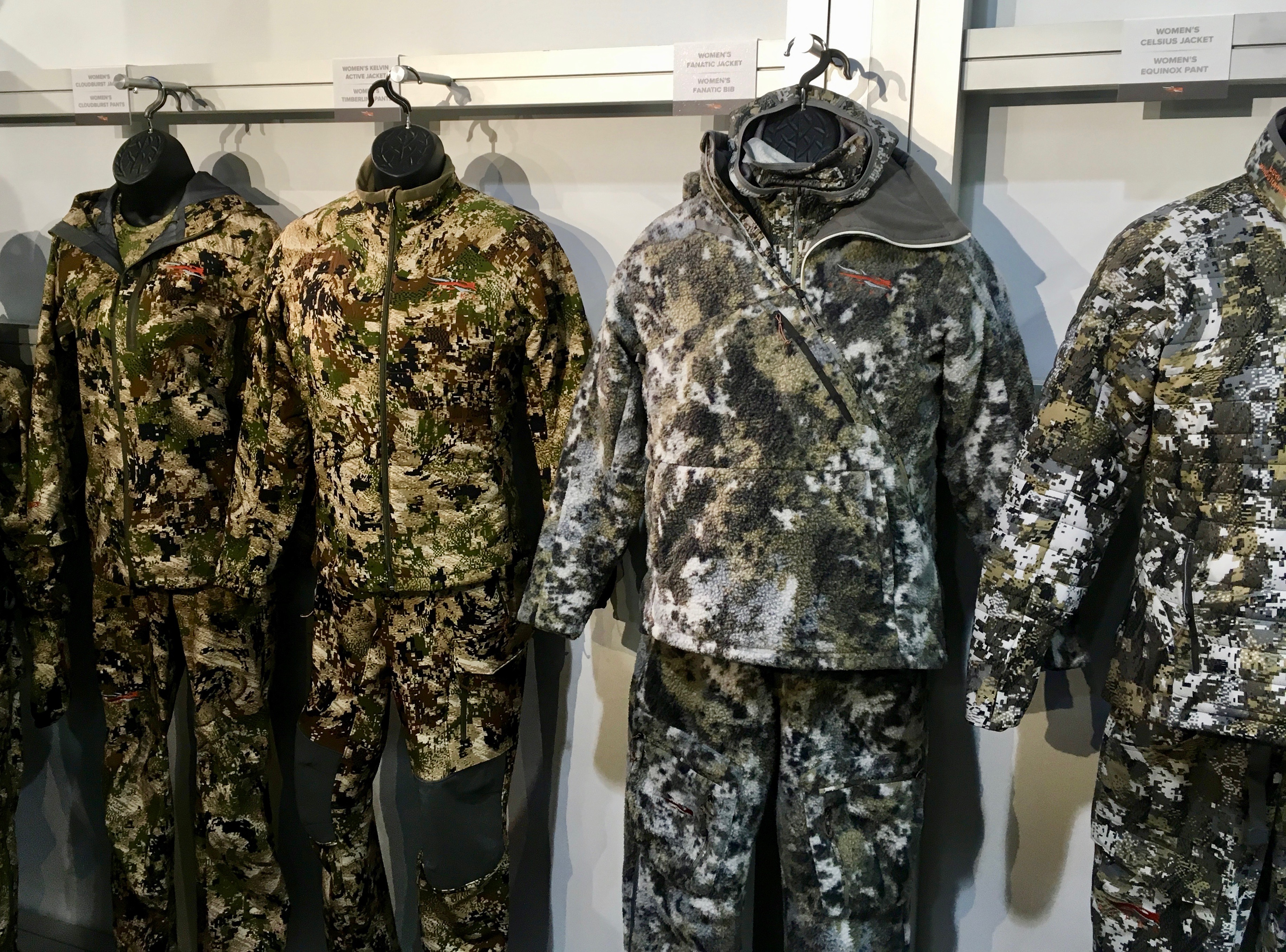 First Lite is also giving away nothing in the innovation department. They have a new pattern, Cipher, tailored for late season hardwoods and applications which require more contrast than Fusion. I'm not sure that's really needed, but like Fusion Cipher sure looks both effective and cool.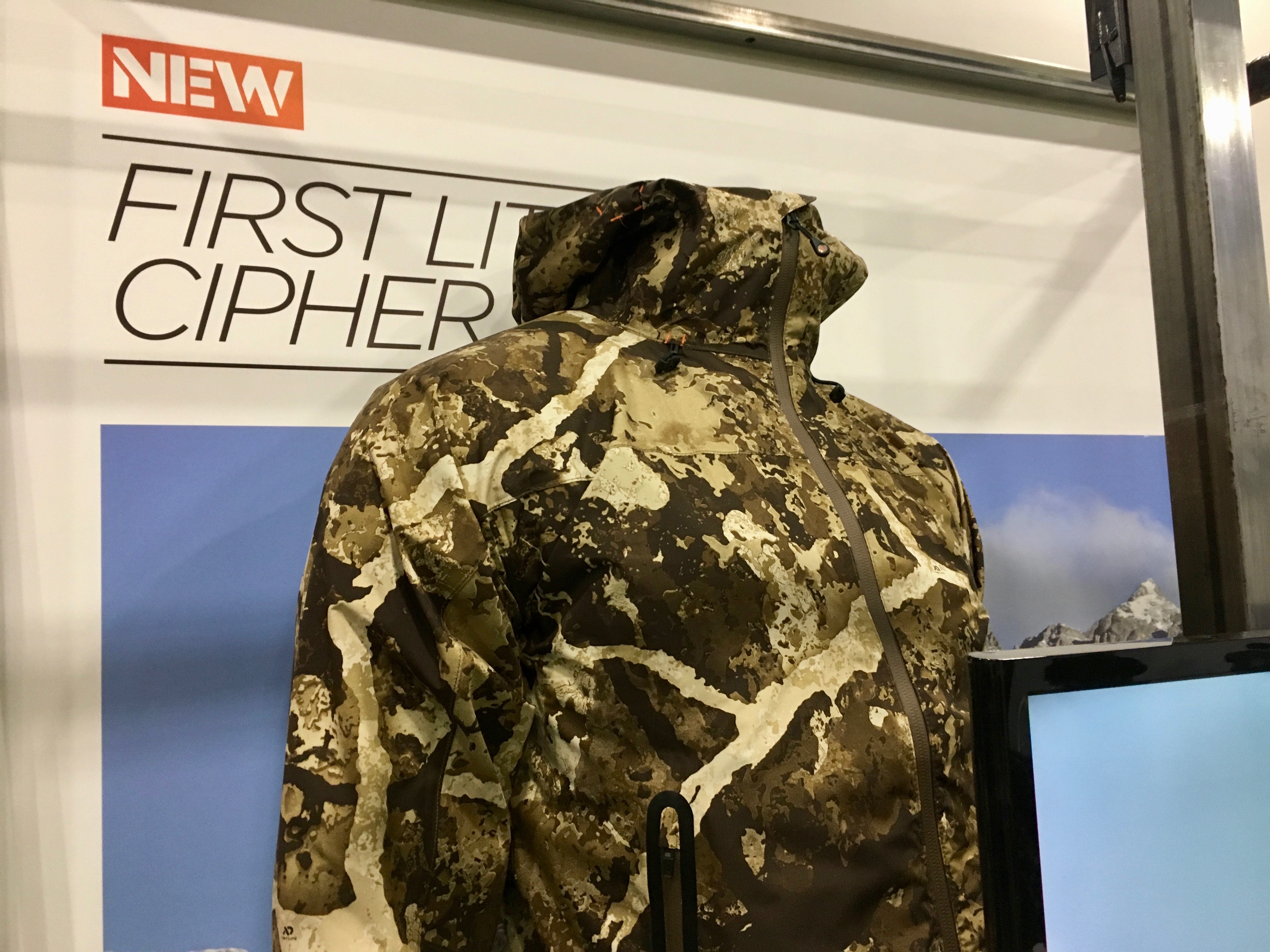 First Lite is making more pieces out of their excellent Aerowool, namely a t-shirt (the Minaret SS) and short boxer (the Benmore, 4 inch inseam). Aerowool dries faster and lasts longer than pure merino in a comparable weight (145 grams/meter), and while it isn't as tough as pure polyester, it controls odor and buffers moisture better.
First Lite was the fist to make technical hunting clothes for women, and for 2017 they have a women's specific rain coat (the Cascade, 12 oz) and synthetic puffy coat (the Aurora, 16 oz). Details across the line, such as the double pockets on the Woodbury whitetail coat, show below, are consistently well-thought out.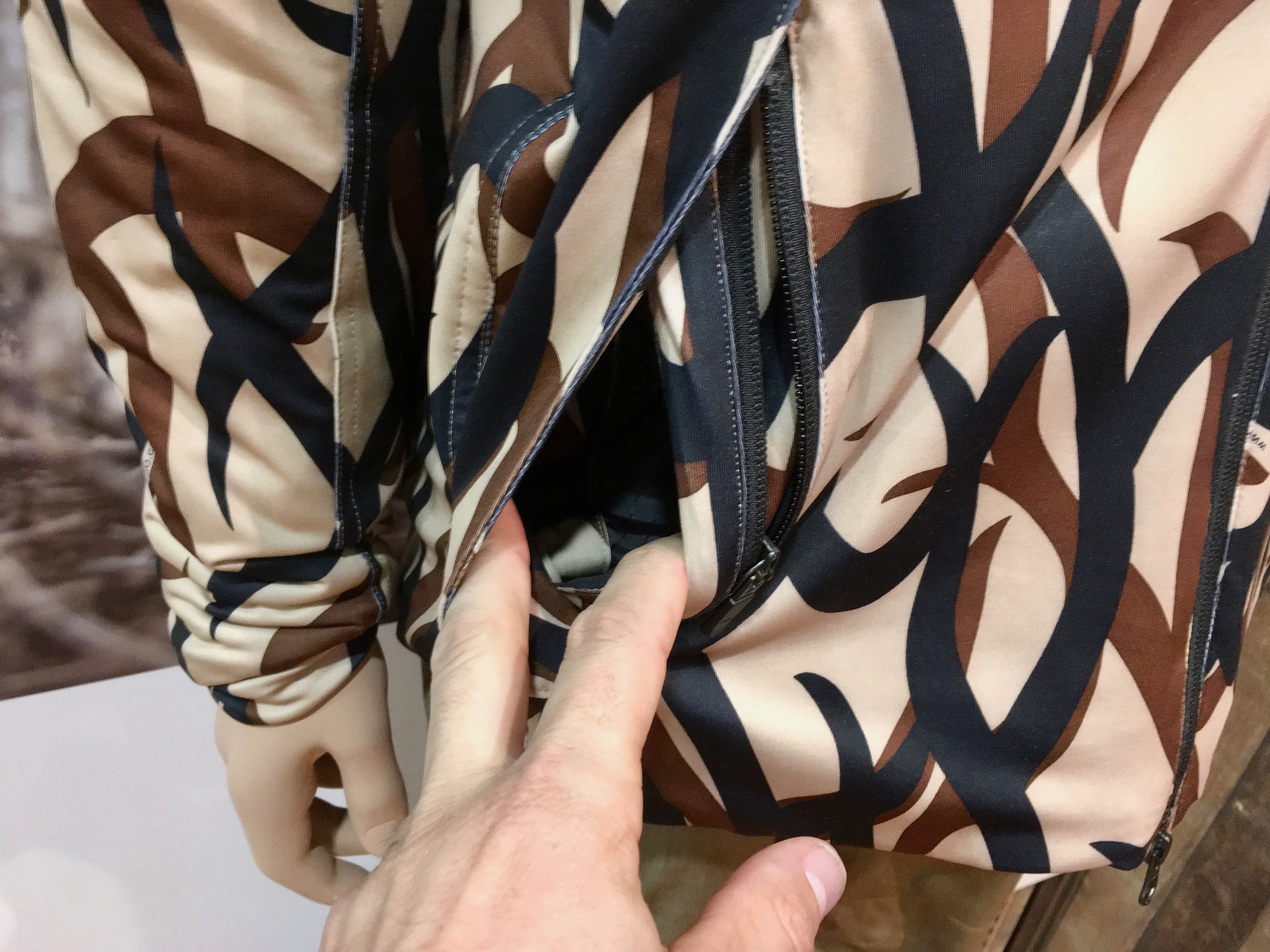 First Lite also has an Uncompahgre pant, to match their puffy jacket. It has 100 gram/meter insulation, and 3/4 side zips. The Kanab pants have been rebooted as the Obsidian, with a new wool/nylon fabric and stretch panels in the crotch and backband. And the Sawtooth Hybrid jacket mixed 60g shelled insulation on the front and sleeves with 320 gram/meter merino on the back, hood, lower sleeves, and lower torso.
Overall, First Lite and Sitka have shown definitively that any innovation gap that might have existed between the hunting and general outdoor has ceased to exist, and that in some significant areas hunting clothing is now at the forefront of design and (perhaps) performance).
Lastly, almost everyone likes Havalon and other knives which use replaceable medical-grade scalpel blades, but few enjoy the fiddly replacement procedure and hard to clean folding mechanism. CRKT's entry to the field comes in a four pack, and features the same blades permanently mounted to a generous plastic handle. The idea is to use the knife until the blade is dull, then discard the whole thing. Not a solution to the trash-creation problem, but something that might appeal to some folks.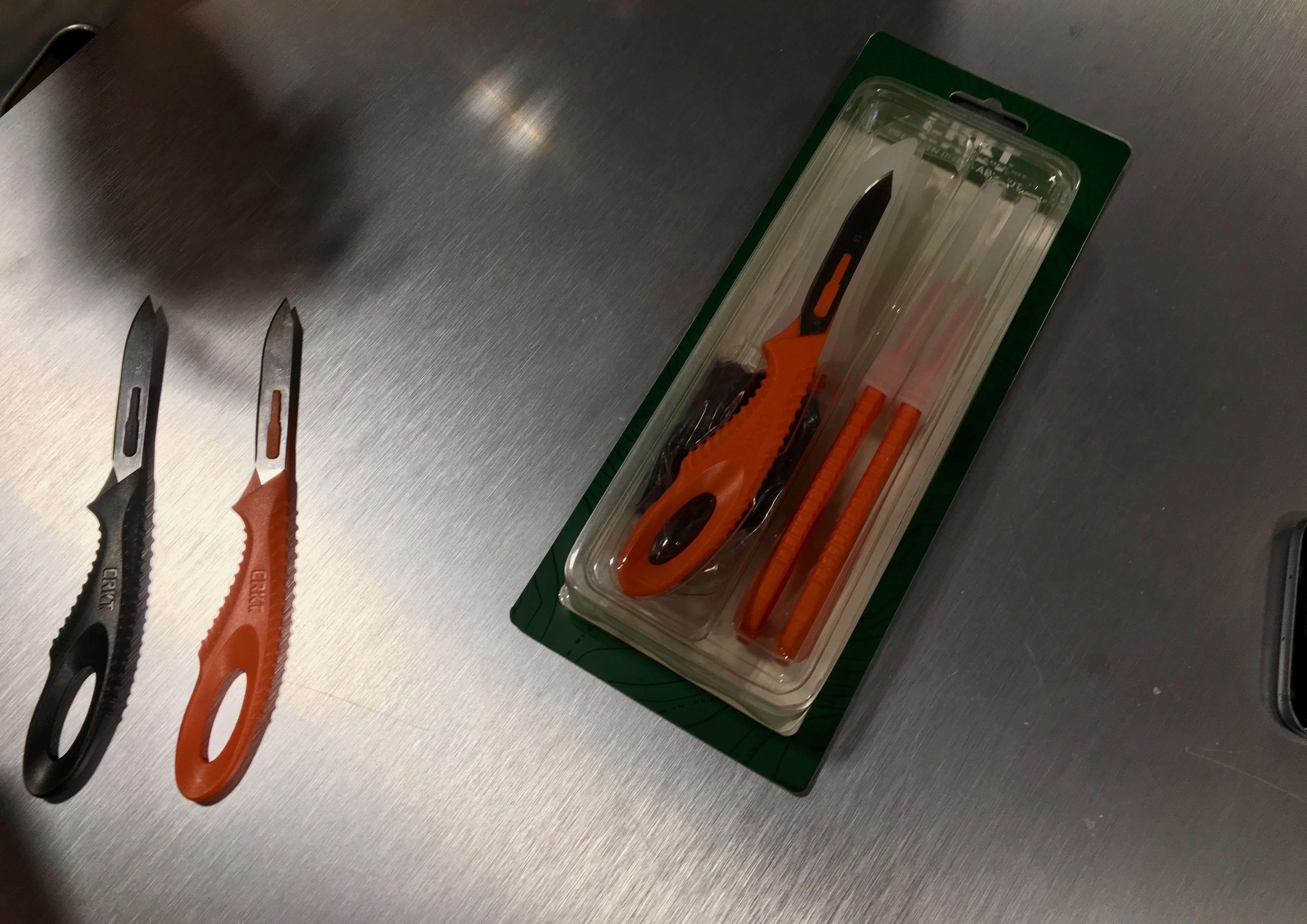 Hunting season may seem far away and abstract, and there's a lot of winter yet to go before summer, to say nothing of fall, but tag application season is right around the corner. Equipment can increase the probability of hunt success, and planning big purchases could well start now.
…