Posted by Nathan on 16th Feb 2017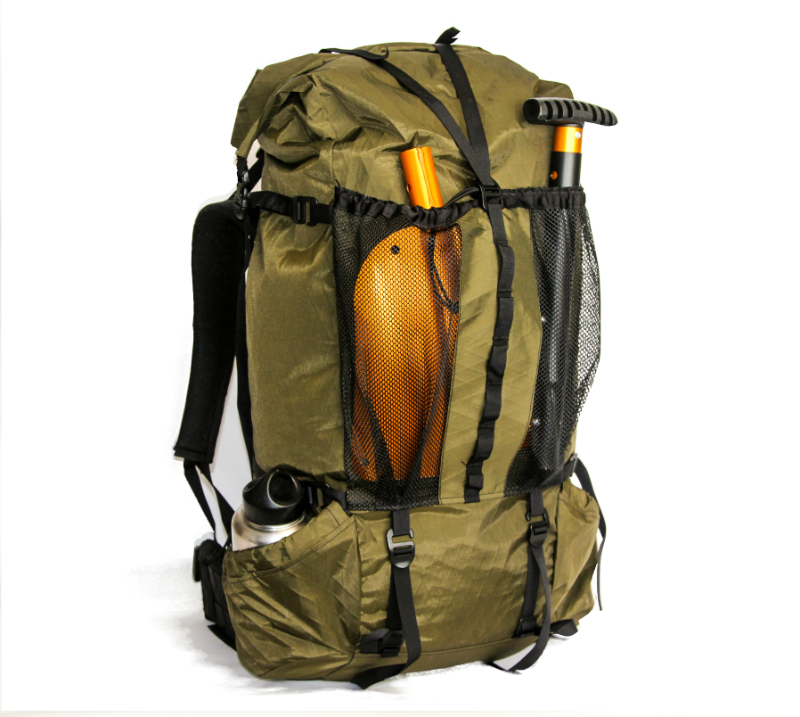 What makes the Divide the best ultralight backpack on the market?
Comfort - our suspension rocks! Our Patented Articulating Frame paired with an articulating hipbelt that grips your body make our packs the most comfortable backpacks on the market.
Versatility - one pack covers almost all the activities you can imagine. If it doesn't, you can change packbags - using the suspension you already have.
Durability - unapologetically overbuilt, because you deserve quality.
Weight - Lighter than the competitors, with more features.
Why is the Divide is such a comfortable backpack?
The Divide is our most popular ultralight backpack, and for good reason - it carries loads of 10-50 lbs in absolute comfort.
Utilizing our Articulating Frame and time tested suspension, the Divide has the same fantastic comfort as our bigger packs. Comfort that we've built our reputation on.
The Articulating Frame is vertically stiff to support loads, but rotates torsionally to match your shoulder and back movement. This allows us to make a backpack that feels great at sub 10 lb loads that also feels great at 50+ lb loads.
Our backpacks look different than mainstream competitors because they are different. We pride ourselves on first building a product that flat out works, and then we try to make it look good. In short, we value performance far greater than conforming to what is typical and accepted.
Besides comfort (which is awesome), we believe the Divide excels in two areas: Versatility and Durability.
What makes the Divide so versatile?
The Divide's main compartment is generously sized to allow you to loosely stuff gear, instead of over-compressing expensive insulation into tiny stuff sacks ( killing the lifespan in the process). The rolltop closure and XPac fabric ensure your dry goods stay dry.
Two side bottle pockets provide ample storage for a nalgene, tripod, or foam pad.
Frequently accessed gear goes in the giant front pocket. This pocket is made from extra-heavy duty leno mesh that drains like a sieve and won't snag or tear on brush. While this pocket really is giant, it compresses nicely out of the way until you need it.
Wet shoes, rainflys, raincoats, hammock tarps, or anything wet or muddy can be placed in that draining front pocket, and because we use XPac for the pack body, the rest of your gear stays dry.
XPac fabric is waterproof for the life of the fabric. While the fabric is waterproof, the stitch holes can allow water to seep or weep in. For most users it is extremely minimal and easily mitigated by putting critical gear into stuff sacks. To totally eliminate wicking, simply seal the pack seams with Aqua Seal.
The Divide layout is simple and dead easy to use. I don't know about you, but for me more pockets = more places to lose stuff. The Divide eliminates this problem.
Organization is easy, packing is fast, and water management is incredible in this pack. We don't brag at Seek Outside, but I gotta tell you that we're pretty proud of the Divide.
Because the Divide uses the Articulating Frame changing packbags to the Ultralight or Revolution suspensions are a real possibility.
Frames, hipbelts, and shoulder harnesses are interchangeable on our packs, offering an opportunity for you to dial your pack to the adventure at hand. We believe this modularity creates tremendous value for our customers.
Is the Divide built to last?
We see durability ratings for other packs listed as "One thru hike". Not so with the Divide. Quality is in our DNA, and everything we build reflects it.
Inspect our gear and you'll find rugged components and solid craftsmanship. Strong webbing, durable fabric, precise stitching, and robust bar tacks and box stitches abound.
Our Xpac fabric is 100% waterproof for the life of the fabric, and that life is long. We've seen some packs with hard, hard use on them and we are proud to say that the fabrics, webbing, and construction we use stands up extremely well to time and abuse.
Of the different XPac fabrics we use, X21 RC is the lightest and a great fit if you're sticking mostly to trails. If bushwhacking, rock abrasion, and rope hauls are in your future, opt instead for X42 which adds around 3 oz weight and a lot in abrasion resistance.
Our gear is proudly handmade in Grand Junction, Colorado. We trust our craftsmanship, so we back our packs with a lifetime warranty plus a 30 day money back trial period.
At Seek Outside we build gear to last. We don't know exactly how long one of our packs will last, but we do know you'll have a hell of a good time trying to wear one out.
How does the Divide stack up ounce for ounce and dollar for dollar?
Stripping the Divide down to it's minimum weight removes the over the top strap, cross stay, and middle side compression strap ( most of the time you won't miss them...it's still awesome when stripped).
In this configuration the Divide weighs 44 oz. At this weight the Divide still offers load lifters, durable waterproof fabric, a giant front pocket, two spacious side pockets, and two side compression straps.
Mainstream ultralight backpacks in the 4400-4800 ci volume range such as the ULA Catalyst come in at 48 oz, 4 oz heavier than the Divide.
Add bottle pockets and a front pocket to a HMG Porter and it weighs in at 46.2 oz, and lists for $467. At 2.2 oz lighter in weight and over $100 lighter in cost, we're proud of how the Divide stacks up against the competition.
The Divide is hard to label because it has created a new category. No other pack on the market offers the comfortable load carriage, organization, adaptability, ease of use, water resistance, premium materials, and durability of the Divide.
Features
Comfortable suspension
Functional load lifters
Large draining front pocket swallows wet gear
Side bottle pockets sized for gear or a nalgene
Xpac fabric for water management
Quality construction for long life
Made in the USA
Lifetime warranty, 30 day money back trial period
4500 ci total
2 lbs 12 oz minimum weight
…