Posted by on 30th Jan 2017
It's always a privilege to see the new uses customers find for our gear, things we never considered when we designed and built it. Michael Fried's ambitious motorcycle and hiking trip through South America certainly qualifies. Read, look, and then start planning. -S.O.
It's hard to pick a pack to live out of for a year, especially considering the way I like to travel. I decided that on my trip to South America I was going to go as light as I could. I wanted to be able to dump a few of my things at a hostel, fill up with food and take off for week long hiking trips. I figured that the Unaweep 3900 would keep me from over packing and be able to carry any excess stuff strapped on with the Talon if I ever needed it. It's principally designed for hunting, but surprisingly practical for all around travel. It was also light enough to unpack and use for day hikes,carrying only a bivy and sleeping bag for emergencies.

About a month into the trip, after hiking in the Cochamó valley and eight days in Parque Nacional Torres del Paine in Chilean Patagonia, I decided that I was sick of buses and a motorcycle would be the best way to explore the more remote parts of the country. This is where the decision to pack light really saved me. It's one thing to get tired carrying your heavy pack, but something else to have a bike that you're afraid to take off the pavement because it weighs more than a Citroen 2cv. I bought a used Honda 400cc that came with some pretty useless plastic panniers so I just left my stuff in the pack and strapped it to the bike the way it was. I used the panniers mostly for tools, spare parts and food until I smashed them.

With this setup I was ready to go. I headed south for Tierra del Fuego, then turned around and headed back north to Fitzroy in Argentina. Back to Chile for the famous Carretera Austral. Then north for the length of Chile to the Atacama Desert. Next through the high altitudes of Bolivia and the Peruvian Andes. Finally passing through the edges of the amazon rain forest in Ecuador and ending the trip with several months looping around Colombia. All in all I put 20,000 miles on the bike, with as much of it gravel and dirt riding as I could.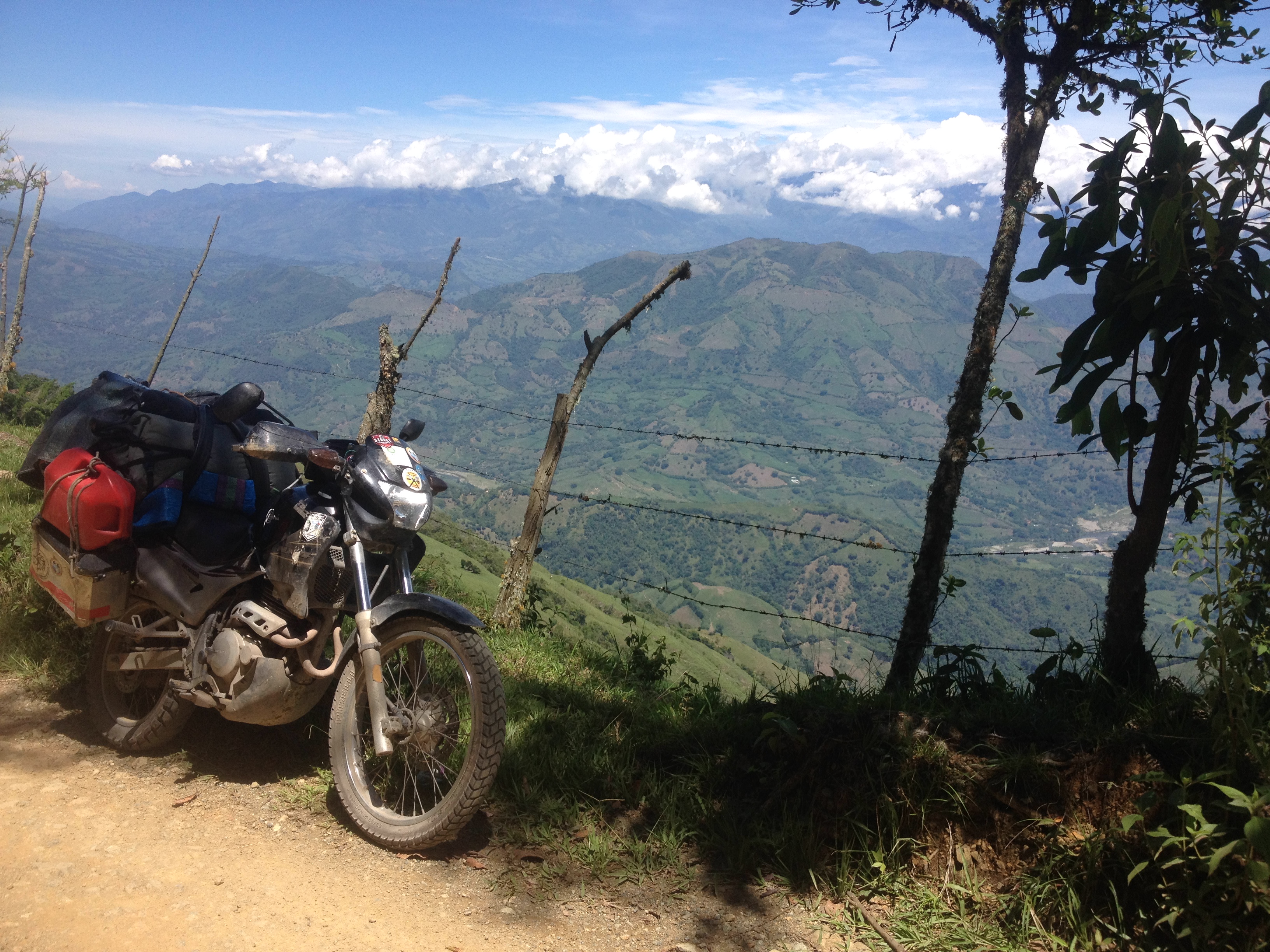 The pack worked out surprisingly well on the bike. I had sealed the seams before I left and packed my stuff in dry bags so there was no need for a rain cover that would just flap around in the wind. Without any extra frills and external pockets the pack didn't turn into a soggy mess in the rain either. The external frame also made the bag rigid and easy to attach to the bike. I had my girlfriend join me for part of the trip, and had to tie the bag onto the side of the bike on top of the pannier in order to make room for her and another bag. It was a heavy awkward bike at that point, but we made it work out.

I met a lot of bikers on the trip, and overall they seemed to get stuck to their motorcycles. As fun as riding is, I prefer see a motorcycle as a tool rather than an end, and taking hiking gear along lets you see a whole more of the places you visit. With a few changes I think a setup like mine was pretty ideal. If I spent more time preparing I would lighten up on my tools and take motorcycle specific soft panniers instead of aluminum or plastic, but any way you do it, a motorcycle and full hiking gear is by far the most liberating way I've found to travel.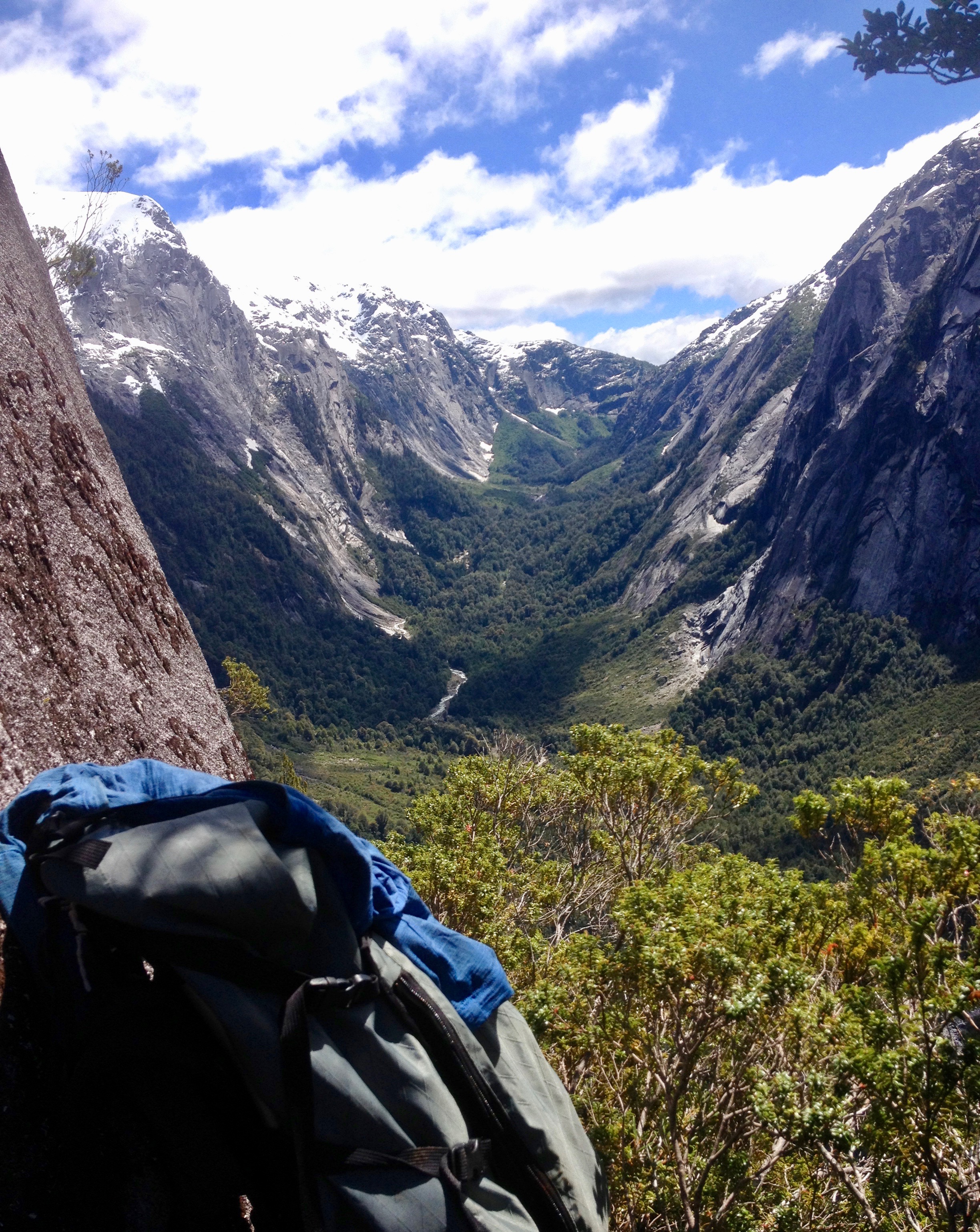 I'd like to return a favor and thank Motomaletas Arica, for helping me fix up the bike with a new set of panniers, and giving me a couch to sleep on for a few days: http://www.motomaletas.cl
…