Posted by on 8th Jul 2016
At Seek Outside, we're proud of the gear we make. But we're most proud of the great team that makes it right here in Colorado. From concept to finished product, it's all made by hand in the U.S. There are some pretty awesome people behind the gear that we produce and we'd love for you to meet them. Here's an introduction to one of our production experts!
In this post, we'd like to introduce you to Charlotte Alcorta. Charlotte is a rockstar pattern designer and seamstress. She plays an integral role in helping us take concepts and turning them into the outstanding finished products that our customers enjoy.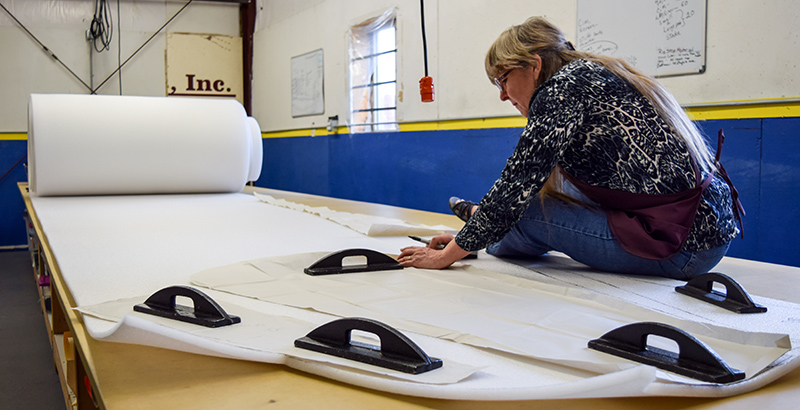 Charlotte has been in the sewing manufacturing industry since the 1970s where she started behind a sewing machine and eventually became a supervisor. After taking classes, Charlotte began doing patterns and eventually started her own pattern business.
When they were located here in Grand Junction, Colorado, Charlotte was a seamstress for Marmot, so she is certainly no stranger to the world of outdoor gear.
"Tipis and backpacks were something new for me when I started with Seek Outside," Charlotte said. "But they knew exactly what they wanted, so it made it easy to get started."
Charlotte's knowledge in this area is a valuable part of the team dynamic. With a concept on the table, Charlotte is often able to help keep the concepts on track in terms of being both highly functional in the field and still realistic to consistently produce for our customers.
"Kevin and Angie always want to be on the cutting edge, so we're always looking at new ways of doing things," Charlotte commented. "We're always exploring new fabrics, new materials and innovative new ways to do things. That really keeps it interesting."
If you've enjoyed any of our lightweight tents or backpacking products, chances are that Charlotte's fingerprints are on its somewhere! Thanks to Charlotte for all her contributions. If you find yourself in Grand Junction, we welcome visitors so come say hello!
…