Posted by on 12th Jan 2017
In most of our daily lives we've tamed the modern world pretty well; unless you live in a yurt in Wyoming, or the Yukon generally, it's fairly rare that the world just slams on the brakes and says no, you aren't doing this. Which made it appropriate when we woke up Monday, the day the Seek Outside team was to drive to Salt Lake for an indoor outdoor industry trade show, and found the streets and canyons of Grand Junction coated with ice. Freezing rain closed the interstate and made getting to the office slow and interesting, and driving 300 miles seemed ill advised. So as wise outdoor-folks should when conditions are dicey, we waited. And bought some tire chains. By noon the main roads were clear, by Utah the interstate was dry, by the mountains it was snowing rather than raining, and by evening we were in the big city.

The following are items and trends which caught our eye, in no particular order.
Vehicle set pieces are not uncommon at OR. Winnebago was showing their Sprinter van RV setup, and Carabiner Coffee had their usual VW microbus, but we appreciated that the Keen van had obviously driven itself to the show.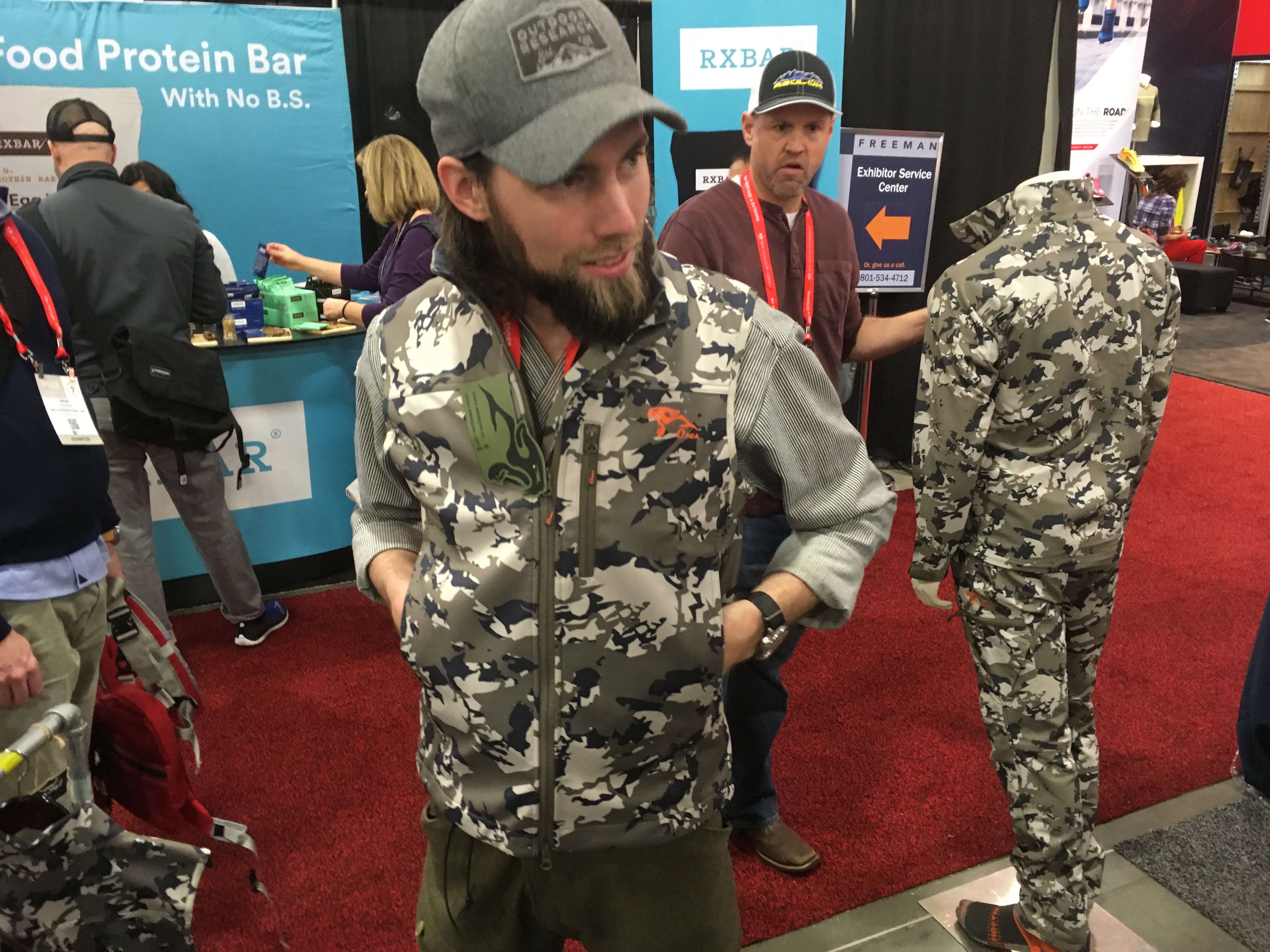 Onca Gear is technical camo apparel, designed in Spain by a team that got their start building clothing for LEOs. Five years ago camo clothing lagged behind the rest of the industry, but those gaps have been erased and in select cases hunting companies are now at the forefront on innovation. Onca had smart designs with good pocket placement and well chosen fabrics. It is not the lightest stuff, but their soft shells and outerwear seemed very tough, their down and synthetic insulated jackets more insulated than average, and their raingear innovative. The heavyweight, full conditions coat and pants used an approach we'd never seen before, a standard three layer WPB laminate with a hanging tricot liner that itself had a light coating on the inside. The idea here is to fight the internal condensation which plagues users in continuous cool and cold rain by providing an air gap, as well as additional moisture barrier. One has to assume breathability would suffer, but then again we've yet to try it, and many hunters would trade on that to a certain extent if at the same time they stayed drier. Onca is just getting established in the US, and judging by the quality of their initial offerings and passion of their people, they will be worth keeping an eye on.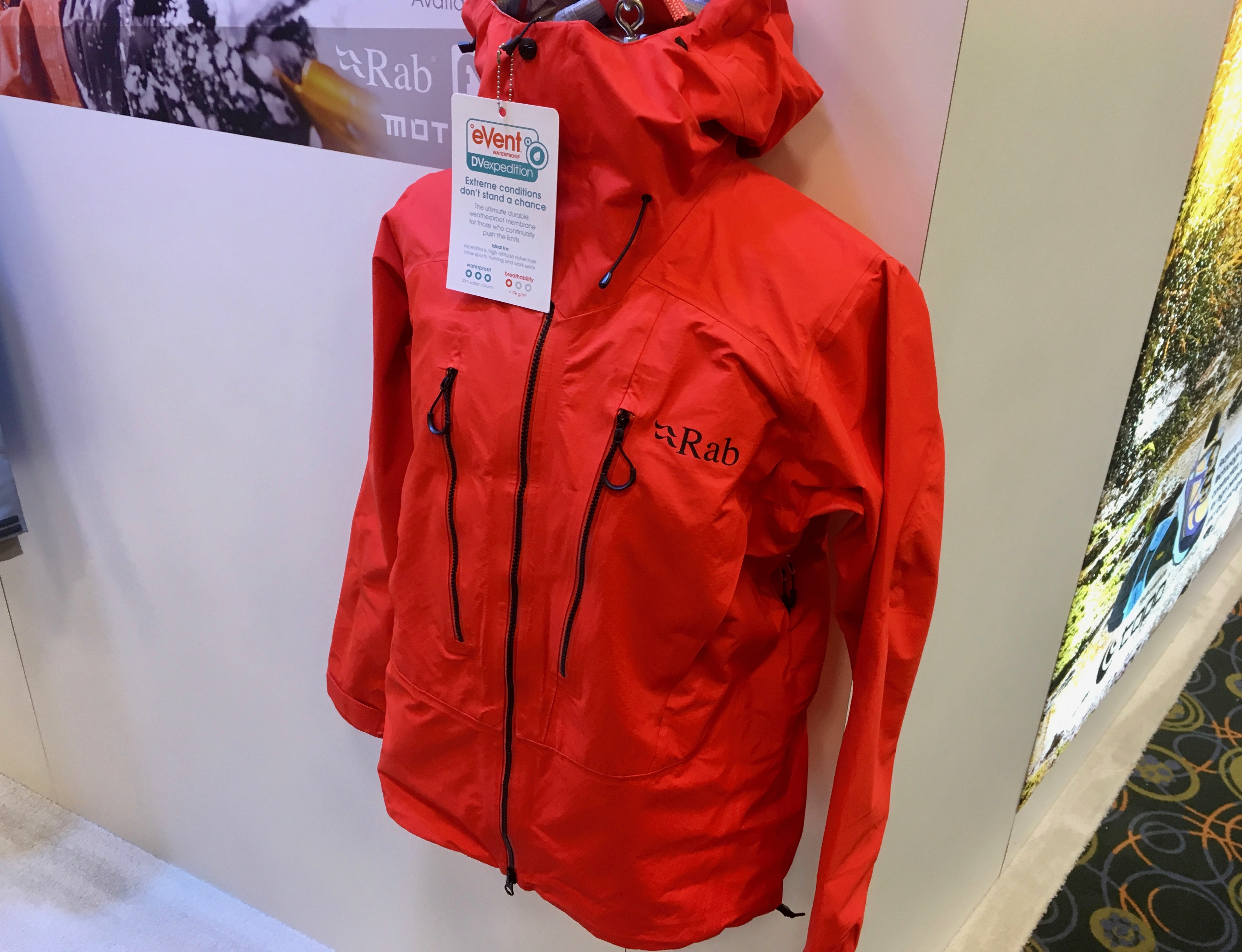 Rain gear innovation continues to creep forward, separately addressing the twin bugbears of breathability and DWR performance. The Latok, shown above, has been Rab's flagship alpine climbing jacket for some time, and the newest version is made from a form of eVent membrane that claims to breath better than ever, by allowing a little bit of air to circulate through. Increased breathability should equal greater user comfort, and the ability to use a rain coat in a greater number of circumstances.
The achilles heel of modern WPB fabrics has always been the DWR coating. When new and functional the coating keeps water beading off the jacket or pants and the face fabric dry, when older and dirty DWR's no longer function, and when the face fabrics becomes soaked the garment no longer breaths well. At minimum internal condensation becomes much more severe, and there has long been discussion that under nasty conditions water can move in through the tiny holes in the various membranes. Gore permanent beading technology, used in their Active fabric, puts the membrane on the outside, making DWR not necessary. Jackets like the North Face Hyperair use it now. How the external membrane will stand up to abrasion has always been the question, and the folks at the Gore booth told us they weren't recommending it for intensive use like bushwacking, at least for the moment. Hopefully in the near future that will change.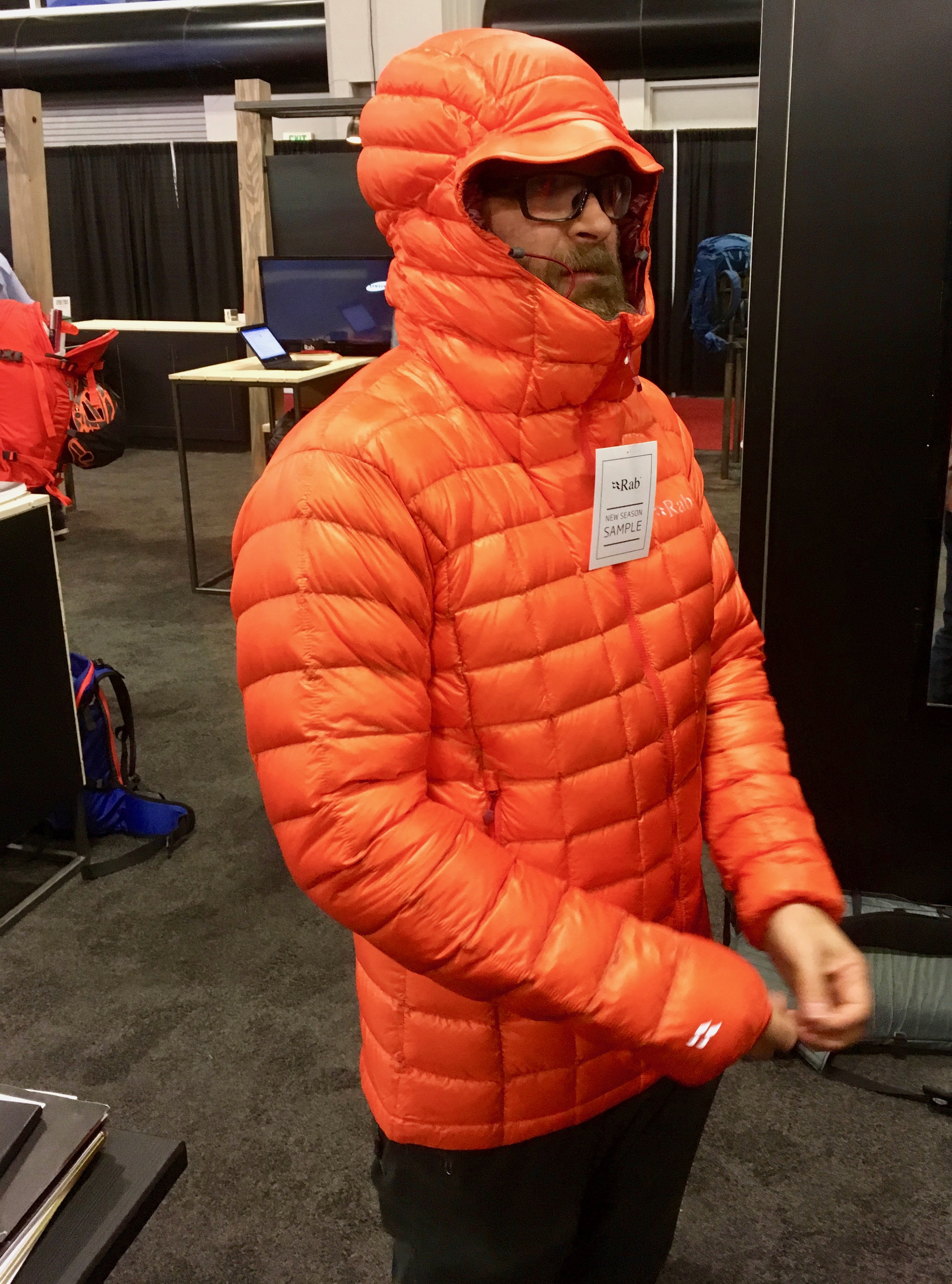 Insulation is also an area of growth and interest. Down is still the pinnacle when it comes to pure warmth/weight, DWR down continues to become the default in booth clothing and sleeping bags, and in both fabric and fill weight companies continue to fine tune the balance between light weight and levels of durability and warmth which are most functional in the field. The Rab Continuum jacket is a good example of this. The new version features a slightly heavier, more durable shell than the Quantum GL ripstop used by the current jacket, but still has 5 or more ounces of down fill, making it quite warm for it's 13 ounce overall weight. That this figure includes the nice hood shown above, something which adds warmth and function when the weather is bad, makes it all the more attractive.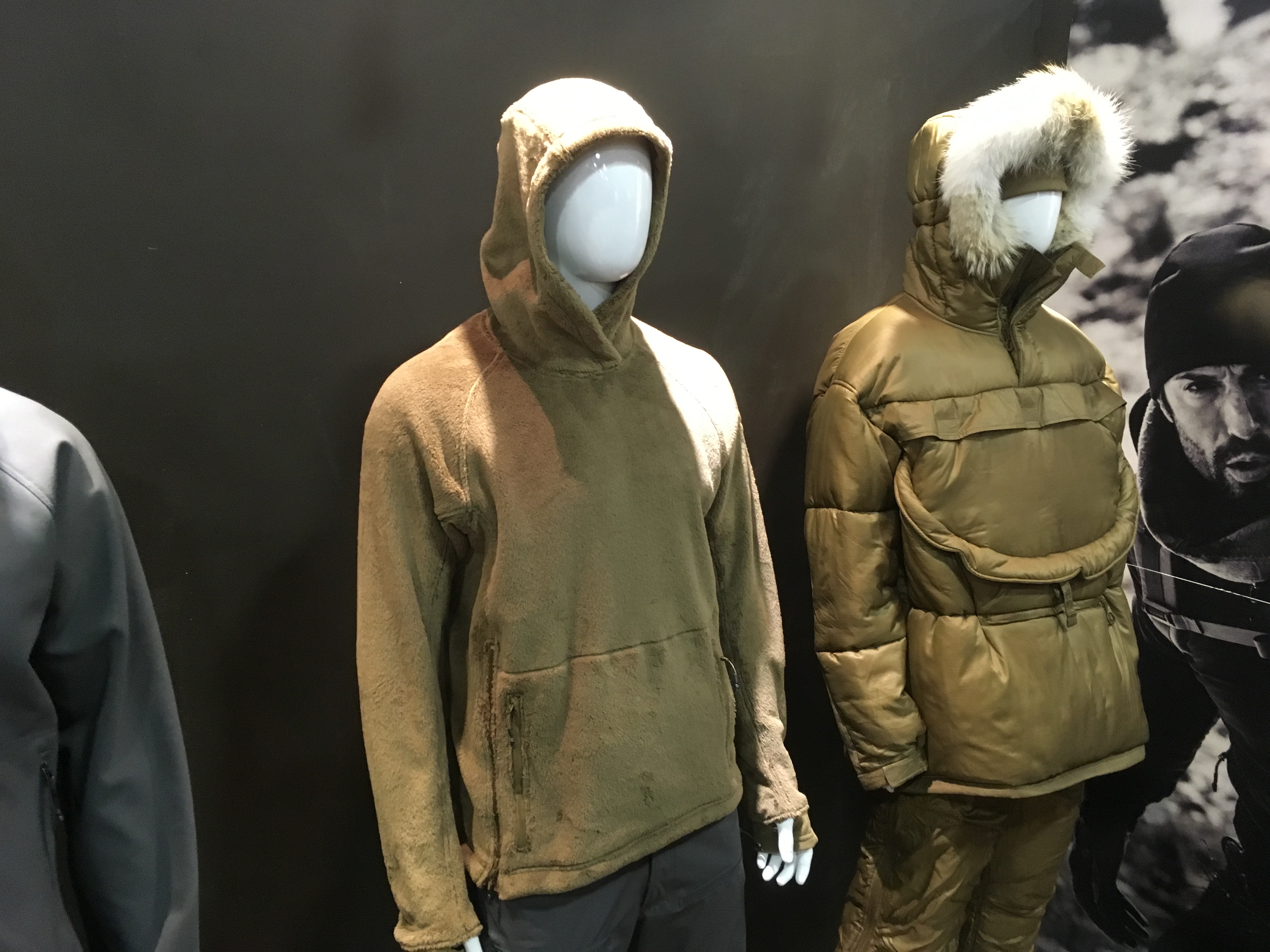 Fleece also continues to make a comeback, something we like to see, as big fans of it. Fleece isn't as warm or light as down, but it is tough, inexpensive, and still the top choice for wearing on the go in wet conditions. Options like the Beyond Clothing prototype shown above, made from heavy Polartec Hi Loft, or the jackets from Brooks Range Mountaineering below, which come in two different weights, continue to provide good options for anyone who likes staying warm outside (that is, everyone).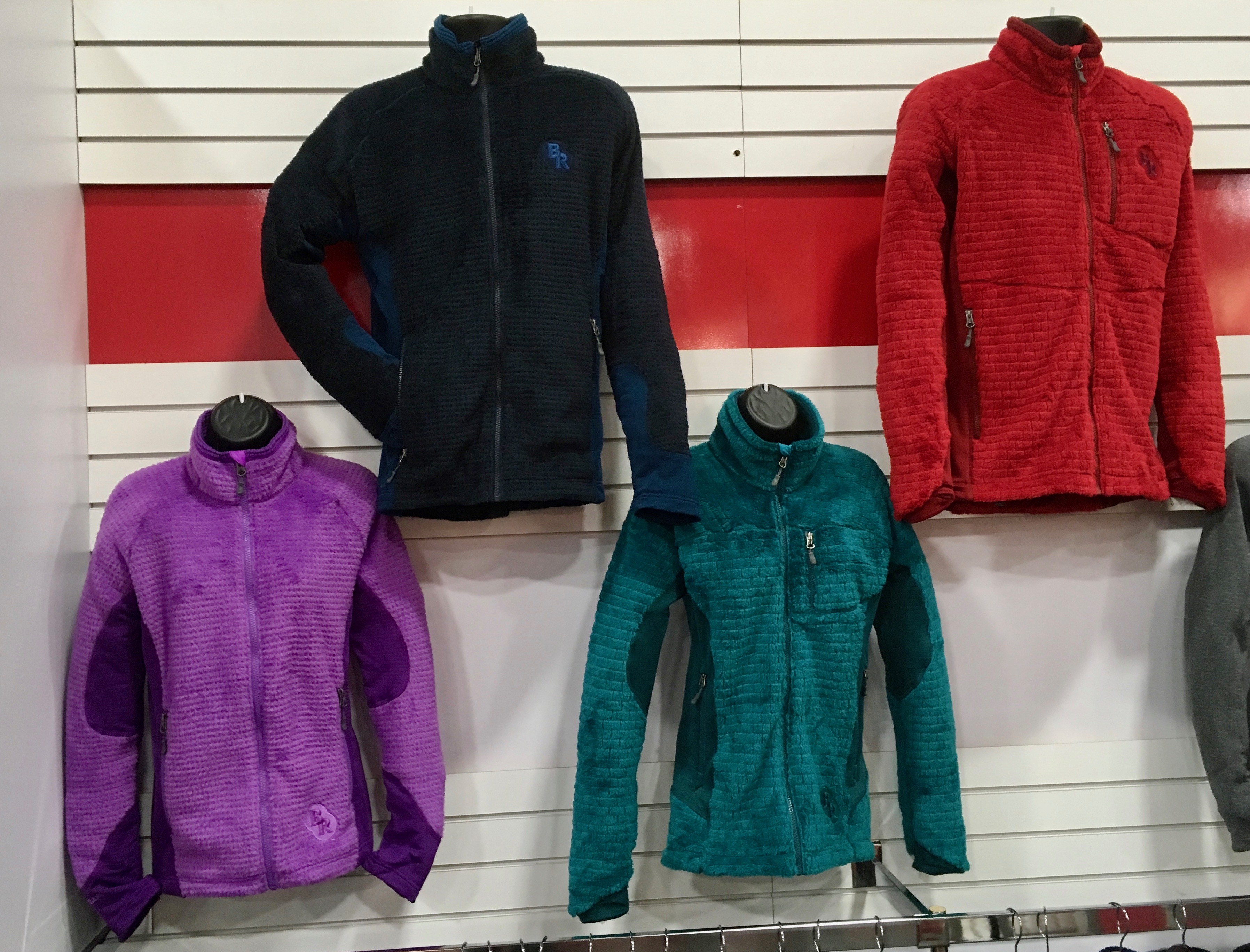 Mid weight on the left, heavy on the right, and available in both men's and women's versions.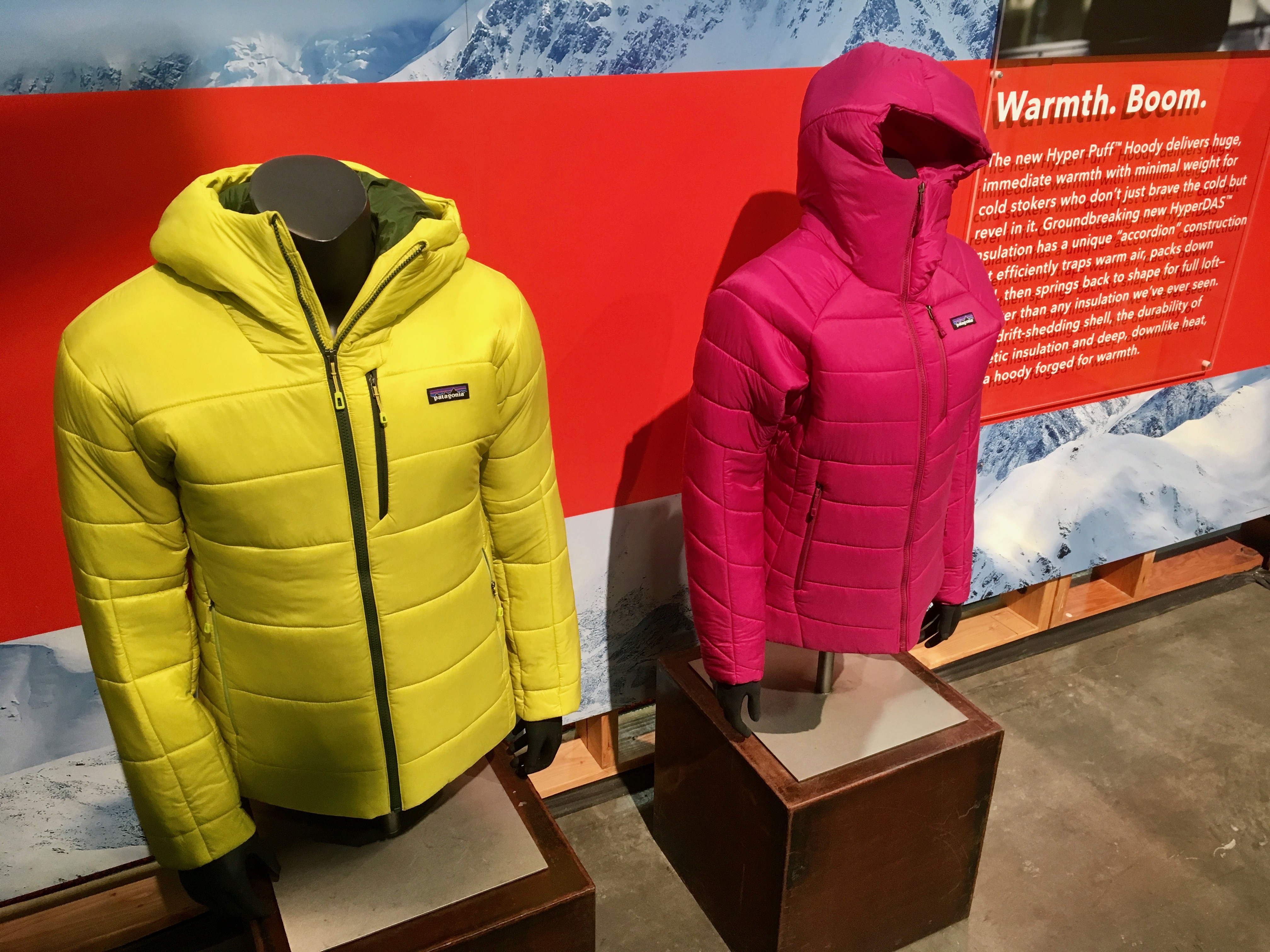 Synthetic fill is the third option for staying warm, and here too things are getting better. Patagonia's HyperDAS insulation is far loftier (and stiffer and bulkier) than the standards like Primaloft. It won't be as low profile as Primaloft, but it should also be quite a bit warmer, and hopefully not break down as quickly when used often.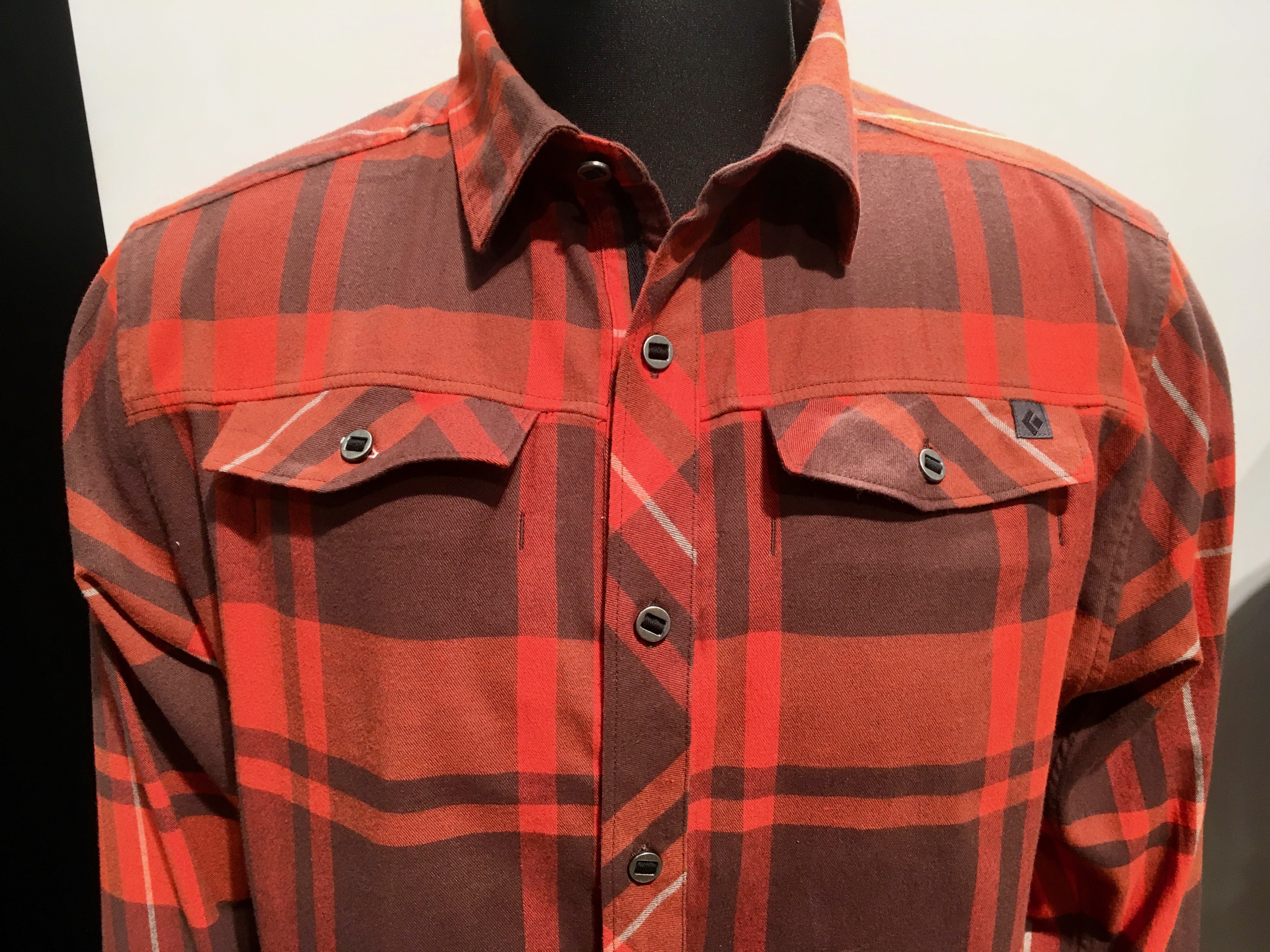 Casual or "lifestyle" clothing is the biggest part of OR, and while these pieces as a rule lack the technical details which tend to get us fired up, they can provide some interesting details which might make daily life better. A good example is tape buttons, which Black Diamond is using heavily in 2017. They are far stronger and more reliable than conventional thread buttons, and look nifty too.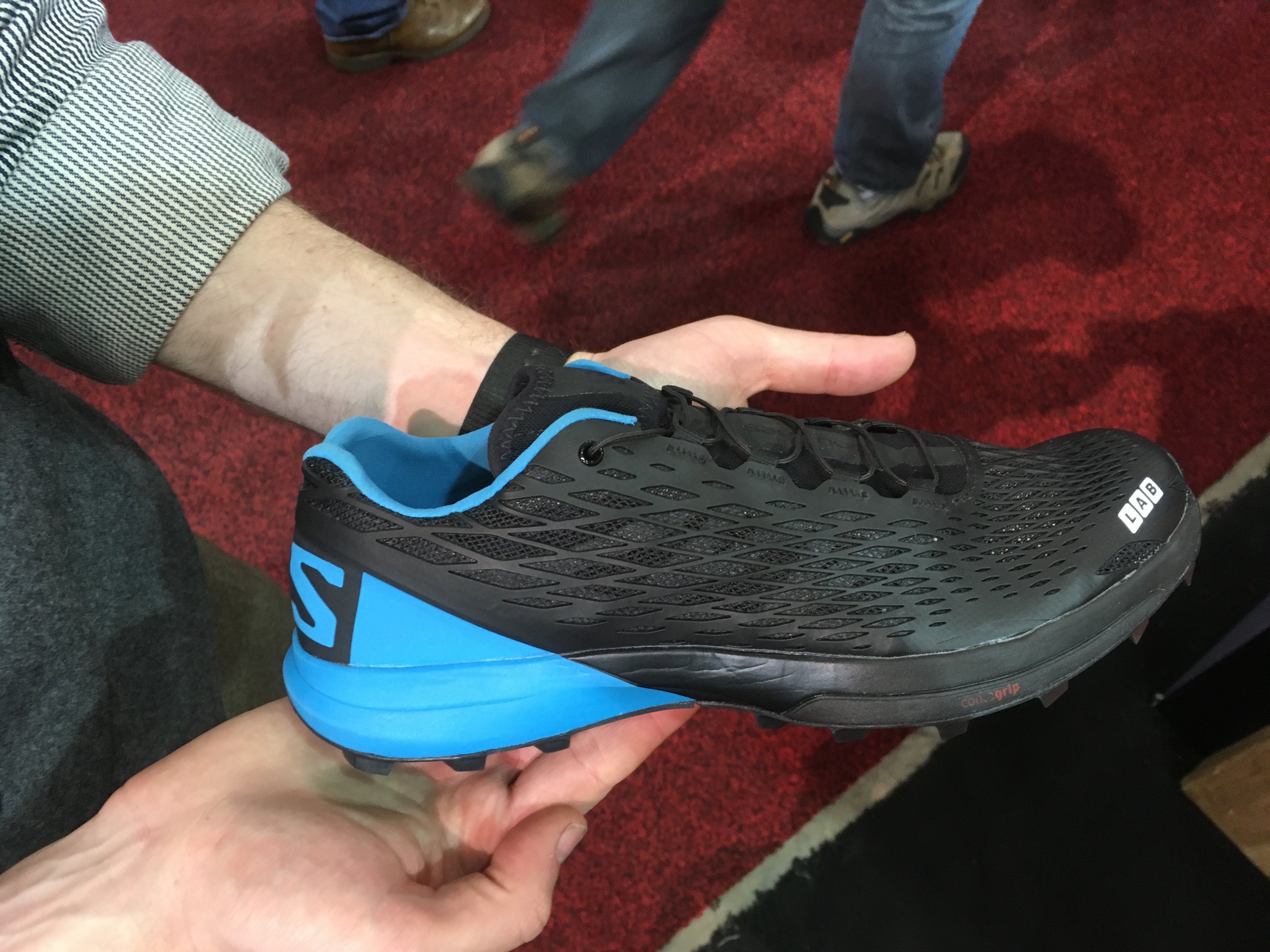 Shoes suited to water and walking in difficult terrain have often been in short supply, a sad thing for us desert dwellers as much of our hiking leads through canyons with standing water, far deeper than any boot can manage. Salomon has expanded their S-Lab series to include the XA Amphib, which had good tread and rubber, a sturdy but not stiff midsole, and a light synthetic upper that looked like it should drain and dry fast.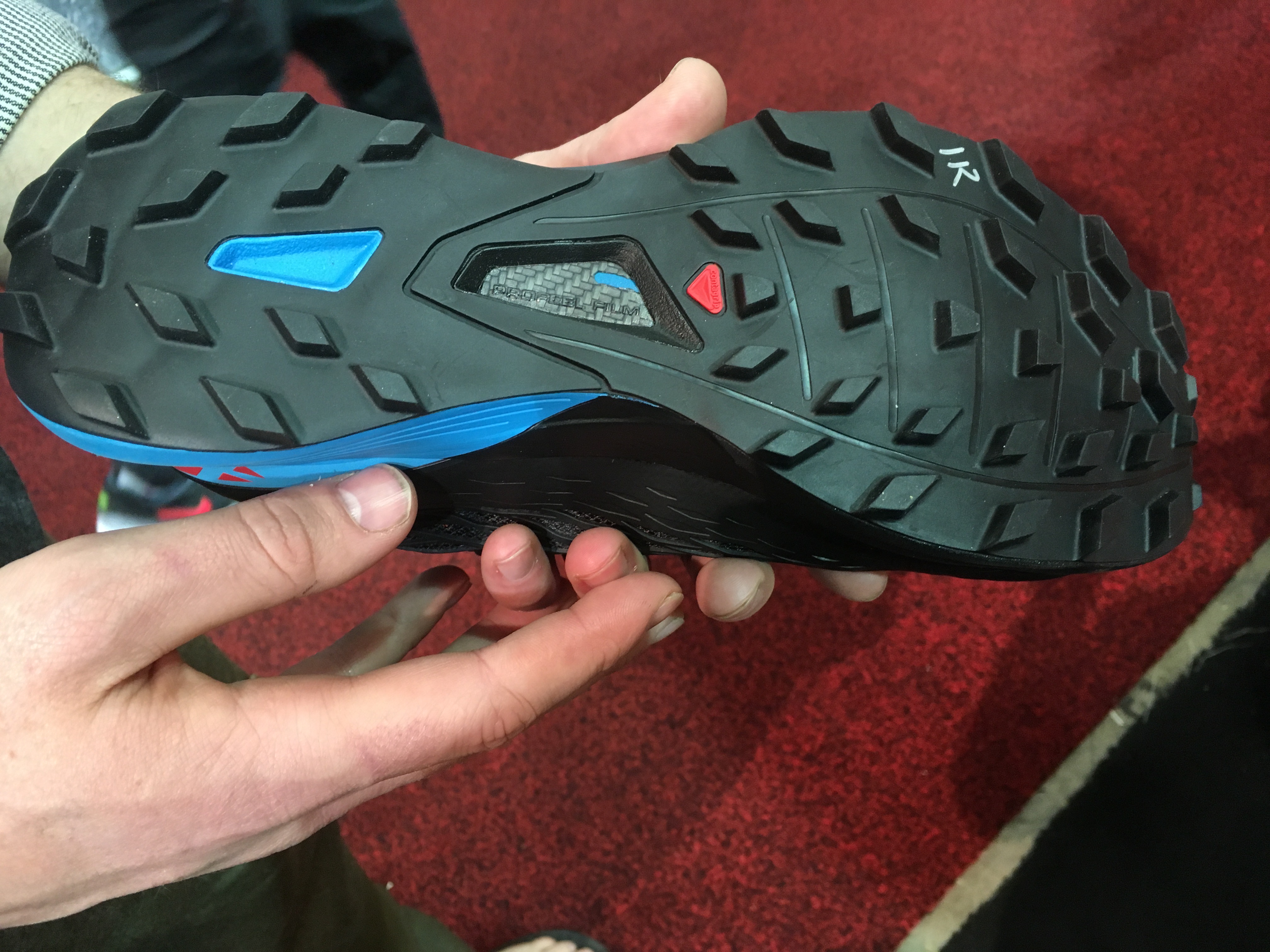 Adidas had several similar shoes, only a small part of their significantly expanded, quite substantive hiking and trail running shoe line.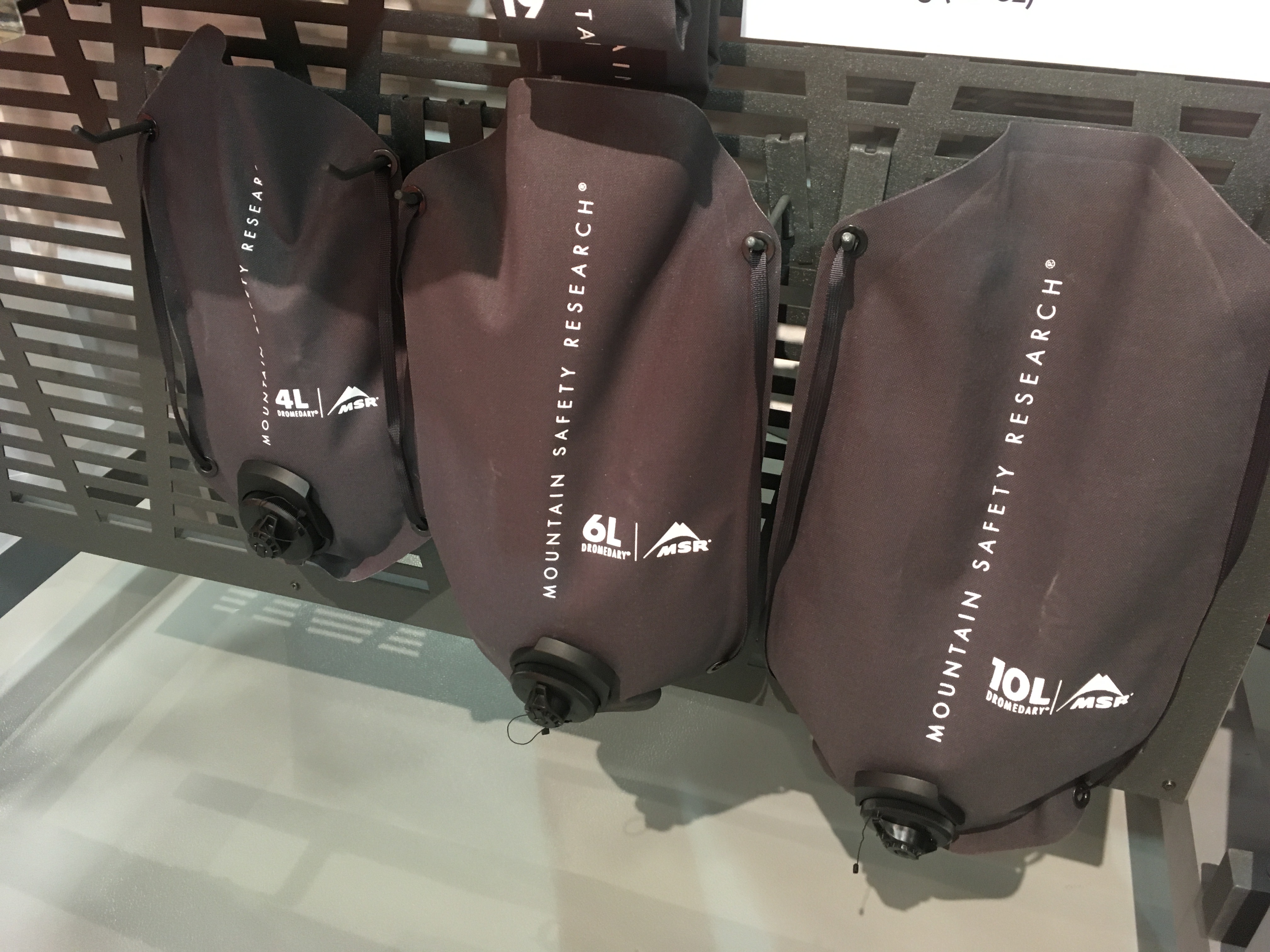 Another desert (or alpine ridgeline) hiking favorite has long been the MSR Dromedary bag, unrivaled for its durability. The latest version is as tough as the classic versions from a decade or more ago, and are the ideal tool for big water hauls. The 4 liter is claimed at 6.9 oz, the 6 liter at 8.7 and the 10 liter at 10 oz even.
Why not get the 10 liter? ;) Also noteworthy, a 2 liter version of the Titan kettle, claimed at 6.4 oz.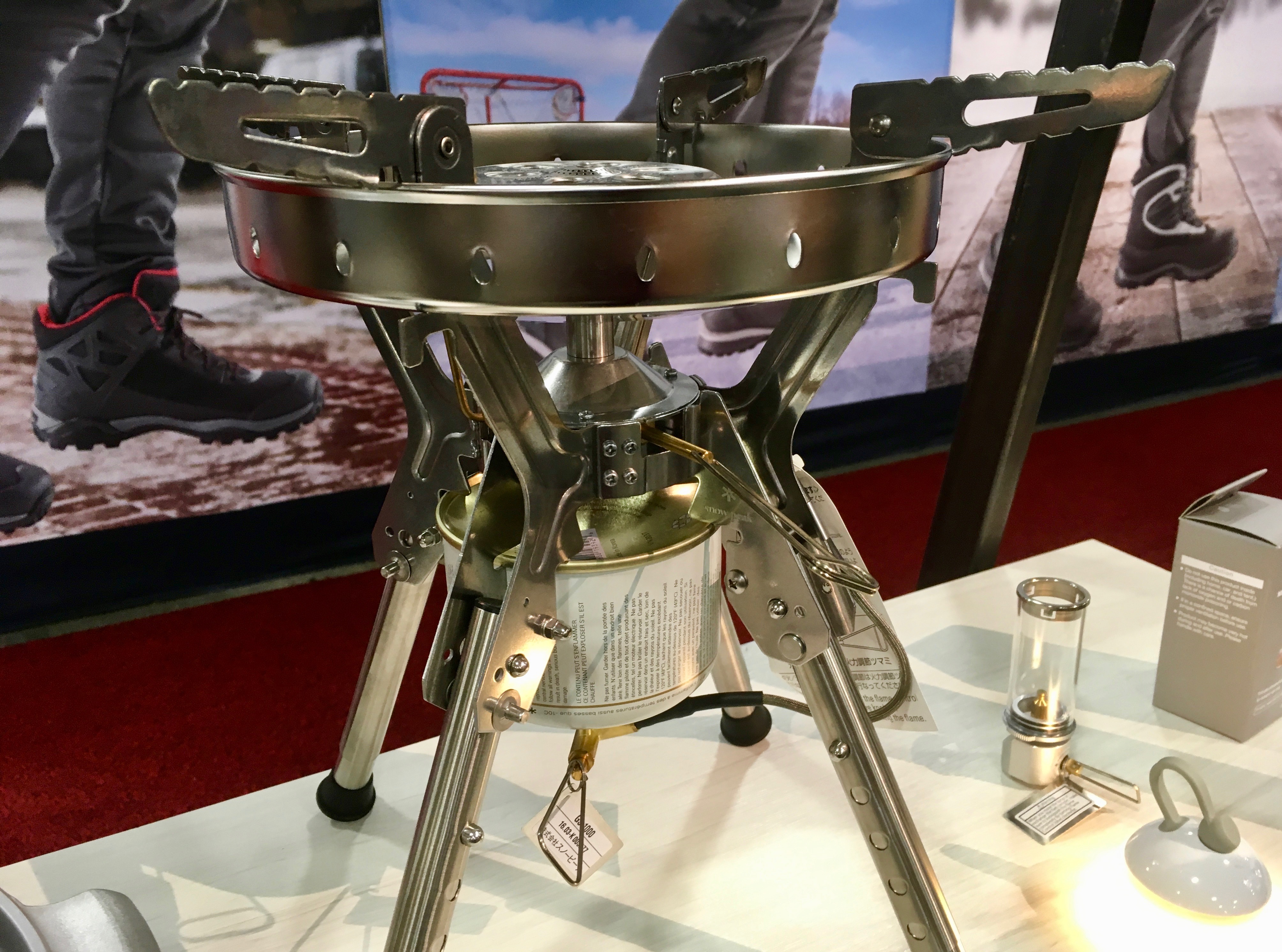 We don't love Snow Peak for their practical and high quality titanium pots and utensils, though they are outstanding and long term investments, as their zany, purist products. An elaborate, heavy, and super-stable inverted canister stove for winter camping? Why not. Double walled 2 oz sake cups? Of course. A creme brulee torch that screws on to a gas canister? Naturally.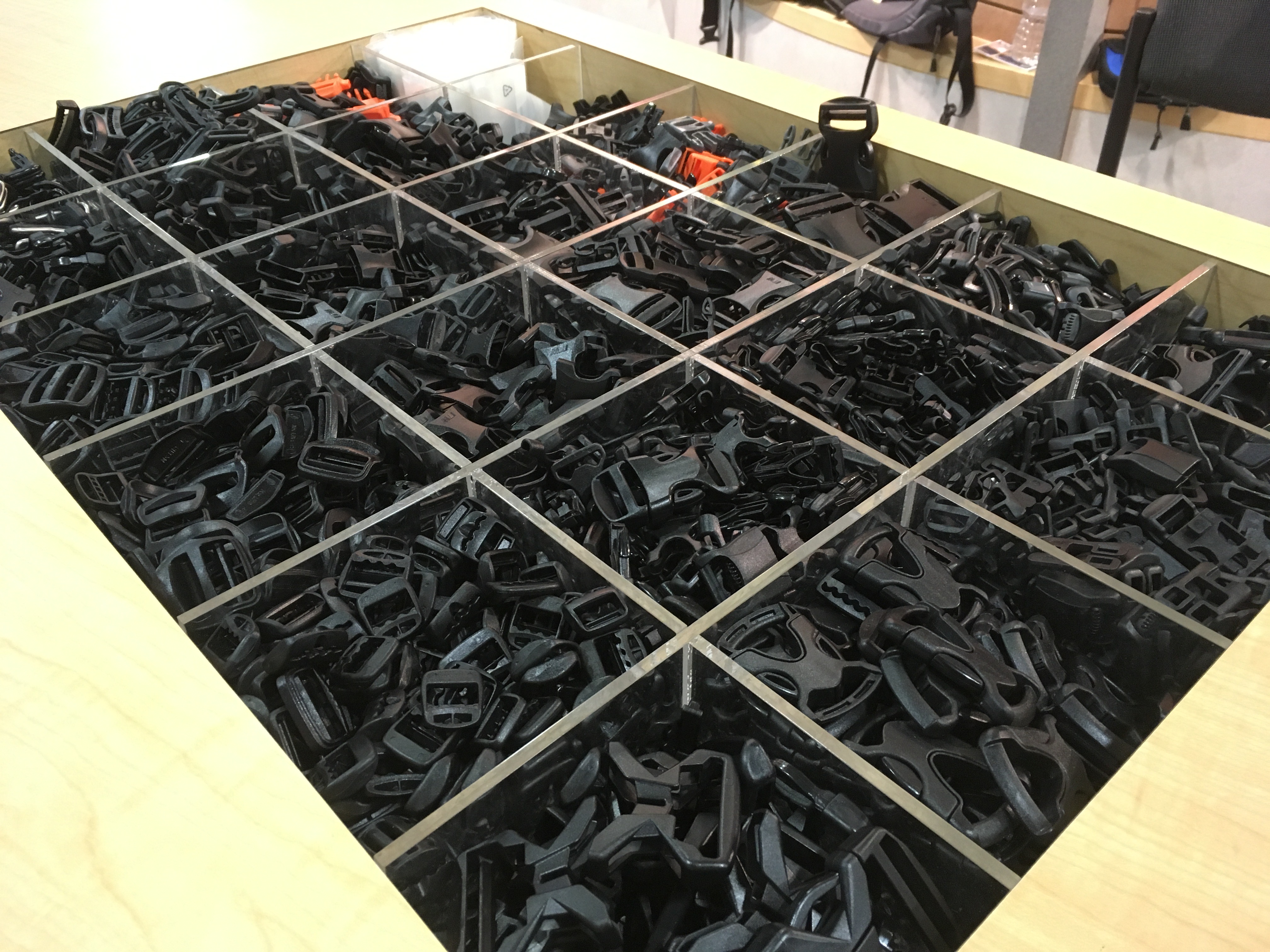 Of course, our primary purpose at OR is to meet with materials suppliers, solidify existing business relationships, and look for new and better things to build with. We're still looking for the unbreakable, nuclear-winter proof hipbelt buckle, for instance. Our current tent fabric, with it's excellent UV resistance and high dynamic strength, is still the best we've seen but that doesn't mean we will stop looking. And we found some fantastic potential pack fabrics, though field testing will be needed to see if the specs bear out in reality.
This week, OR in SLC. Next week, SHOT in Vegas. If you'll be there, or have something you want investigated, give us a buzz.
…