Lightweight Backpacks / Integrated Platform / Divide
Designed for the ultralight backpacker and backcountry adventurer who needs both light weight and comfort under serious loads, the Divide bridges the gap between traditional ultralight backpacking and load hauling external frames.
Other 2.5 pound packs do well with 20 - 25 pounds, and struggle above. The Divide thrives with 30-50 pound loads and is capable over 100 pounds.
With a proven feature set tailored for lightweight backpackers, pack rafters, and backcountry skiers, the Divide also delivers on ultralight backpack hunting trips where weight is of utmost importance.
Handmade in Grand Junction, Colorado, USA.
For an in depth look, read Product Focus: Seek Outside Divide
Divide Features:
Integrated Platform
Field Adjustable Frame Height
Rapid Adaptable Compression System (RACS)
Dynamic Belt System
X-Pac™ Fabric
Tapered main bag adapts to large loads, and rolls down to hug smaller loads. When rolled down to the top of the frame the Divide is little more than 3000 cubic inches, but at full capacity balloons to 4500.
Dimensional side pockets with shock cord closure. Uncinch, access a bottle or snacks, and recinch with one hand on the fly. Shock cord is user replaceable for long service life.
Rear mesh pocket for storage of wet or quick access items.
Six side compression straps
One over-the-top compression strap
Two bottom compression straps
Note - Ice Axe Loops have been replaced by a web loop and extra gatekeeper straps. This is a more adaptable system.
Specifications:
Top Circumference - 43" | 109 cm
Bottom Circumference - 42" | 107 cm
Unrolled Height - 38" | 97 cm
Weight:
Base weight 2 lbs 12 oz Alpine Gray, 2 lbs 15 oz Expedition Olive (w/ small belt)
Removable strapping adds 2.6 ounces (over the top, roll top cinch, dual lower straps)
Horizon Cross Stay adds 2.5 ounces
Weight as packaged 3 lbs 1 oz in Alpine Grey, 3 lbs 4 oz Expedition Olive
Included:
Six side compression straps
One over the top compression strap
Two bottom compression straps
Field Repair Kit
Two one inch belt buckles
A 4 to 1 single belt buckle is available upon request
Fit:
Rain Cover / Seam Sealing:
For instructions, check out our video Seam Sealing a Backpack.
Main pack bag is made of

X-Pac™ waterproof material and features a waterproof rolltop closure. Seam sealing the outside seams is recommended for exceptionally wet environments.

Waterproof stuff sacks are recommended for exceptionally rainy conditions, and drybags for submersion or severely wet conditions such as bushwacking or canyoneering.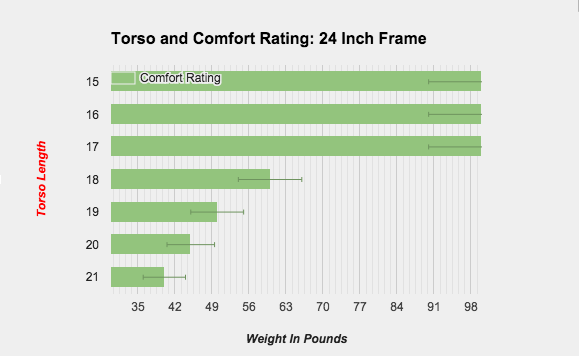 Bear Cans:
All bear cans will fit horizontally in the upper 2/3 of the bag
Bear cans may be strapped on with lower compression straps
Bear cans may be carried under the top strap
Materials:
Suspension is 500D Cordura and 3D spacer mesh. Hypalon and 500D Cordura reinforcements
Pack bag is made from X21RC xpac (grey) or X42 xpac (olive). X21 represents an excellent balance of durability and weight for on trail or lighter duty uses. X42 easily stands up to all but the most abusive of applications.
Defects in manufacturing and material for the practical lifetime of the product. Damage due to wear and tear or misuse will be repaired for a reasonable charge.